Time to Chill Out - Joshua Tree Style

04/30/2012 03:02PM ● Published by Steve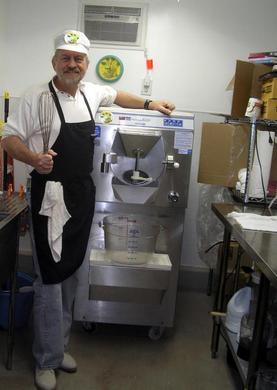 Joshua Treets - The Best Way to Chill
Maybe it was dealing with everybody else's problems and needing the ultimate outlet for happiness that led to Dr. Ron Amos delving into his cool new passion. Maybe it's his inherent creative streak, or the kid that lives on in him. Whatever it is, we're glad to see "Indy" has successfully launched what looks to be the desert's first and only homegrown ice cream company, Joshua Treets.
Made in a licensed commercial facility in Joshua Tree, Joshua Treets is changing the way the desert is chilling with flavors ranging from Cactus Coconut, made with locally sourced hand-picked local Prickly Pear cactus juice, Thai coconut milk, and raw agave nectar for sweetener—an all natural, vegan, raw, gluten free, locally made delight, to the best Mango Sorbet we've ever enjoyed, bursting with fruity flavor from mango, natural can sugar, and a splash of lemon juice—another vegan, gluten free, raw, treet. Our favorite still is the Salted Caramel Crunch, loaded with cashews. Delicious!
Chocolate lovers won't go wrong with Joshua Treets' dark chocolate varieties, with or without chunks of giant fudge walnut brownies in a French chocolate base. Yeah, Joshua Treets costs more than the big commercial brands, but that's because it's made in small artisinal batches with truly high quality ingredients.
Currently you can find Joshua Treets ice cream for dessert at restaurants like the 29 Palms Inn and The Red Lotus, as well as at shops like Joshua Tree Health Foods, and Sam's Market in Joshua Tree. Festival fans can chill with Joshua Treets at the upcoming Joshua Tree Music Festival as it will be served at Java GoGo. Find Joshua Treets on Facebook, and we'll keep you up to date on the best way to chill in the desert online at www.thesunrunner.com.
Culture
,
Food+Drink
joshua tree
joshua treets
ice cream
indy
amos
red lotus
health foods
sams market
music festival
chill
vegan
sorbet
palms inn