Mr. McChesney Goes to Washington

04/30/2012 03:16PM ● Published by Steve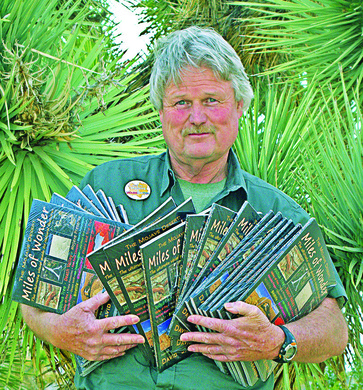 Photographer/author David Jesse McChesney of Joshua Tree began his "Send the Mojave to Washington" campaign March 26 by mailing 25 copies of his latest book The Mojave Desert: Miles of Wonder to members of the U.S. Senate Committee on Energy and Natural Resources, President Obama, Interior Secretary Ken Salazar, and National Park Service Director Jon Jarvis. His intent is to help provide legislators and administration officials with a better understanding of the Mojave Desert as consideration of Senator Dianne Feinstein's legislation (S.138, The California Desert Protection Act of 2011/12) progresses.
At the direction of Feinstein's office and their designees at several desert conservation and nature organizations, McChesney sent the 540-image book to each member of the CENR's subcommittees on National Parks and Public Lands and Forests. Currently the book is available at national parklands, museums, travel and visitor centers and libraries across the Mojave.
McChesney is the advanced photography instructor for the Desert Institute at Joshua Tree National Park and has photographed much of the western hemisphere including 53 American national parks. He authored Muir Roots: At One with the Wild in 2008.
Since October, McChesney has given dozens of Mojave presentations for nature preserves, conservation organizations, historical societies, libraries, art associations and photography clubs throughout the desert. He is scheduled to hold numerous events for the Las Vegas Natural History Museum, Springs Preserve, Sierra Club, and Clark County (NV) and San Bernardino County Library Districts.
In late September, McChesney plans a cross-country trip to Washington, D.C., which will include talks and Mojave Desert visual presentations in 16 states. In early October he plans to meet with key legislators and distribute additional Miles of Wonder books to Senate and House members while extolling the benefits of establishing two new national monuments and protecting valuable desert wilderness areas in the Mojave.
We wish David luck with his expedition. These days, it doesn't seem as if Washington cares much about the desert, other than to hand it out for taxpayer-funded industrial power projects that destroy our habitat, mangle our views (and in turn, this mangles our tourism industry), and destroy Native American cultural resources, all the while energetically ignoring our concerns.
This magazine has been read in a number of offices of representatives and senators, and reportedly made its way past the Secret Service into the White House, but we've received no subscriptions or fan mail from Washington, D.C., as of yet. The current president receives mixed reviews from environmental organizations.
Culture
photographer
book
david
joshua tree
mojave
desert
McChesney
Wasghington
miles of wonder
feinstein