It's a jungle out there in author Robin Maxwell's world!

04/30/2012 03:26PM ● Published by Steve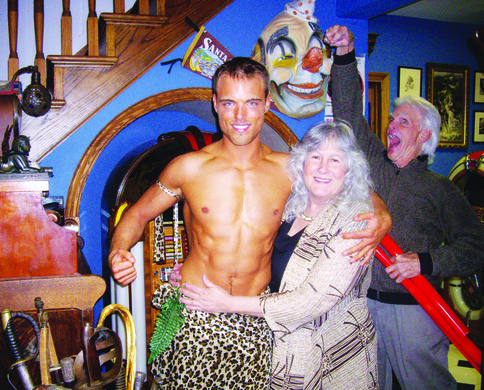 Author Robin Maxwell monkeys around...
Author and cultural treasure of the California deserts, Robin Maxwell, featured in our Desert Treasures Issue earlier this year, pals around with one of the Burroughs' great granddaughters' boyfriends and desert treasure Max Thomas, Robin's husband, and creative dynamo, at the home of Danton Burroughs' widow, the first night of the Tarzan Centennial convention.
Robin's groundbreaking new book, JANE: The Woman Who Loved Tarzan, will be released September 18, and is available now for pre-order on Amazon.com and through Barnes & Noble.
We'll have all the news on JANE and the adventures of Robin and Max here on our website at www.thesunrunner.com.
The release of The Sun Runner's annual Desert Writers Issue (August/September) will culminate with our Desert Writers Celebration, 5 to 9 p.m., Saturday, September 29. The Desert Writers Celebration this year will have a jungle theme in honor of the release of Robin Maxwell's JANE: The Woman Who Loved Tarzan, during Tarzan's centennial year.
The celebration is part of the international 100 Thousand Poets for Change international literary event. Desert writers and poets are invited to read their work, and to sign and sell books at the event. Those interested should contact us at publisher@thesunrunner.com.
Culture
book
robin maxwell
desert writers
author
jane
tarzan
burroughs
centennial