Honoring a Desert Treasure: Elden Hughes

04/30/2012 03:32PM ● Published by Steve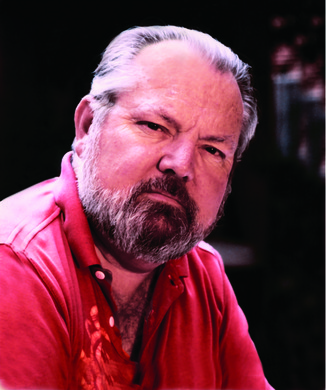 Elden Hughes
By Paul Smith
The Minerva Hoyt Award is presented annually by the Joshua Tree National Park Association to commemorate the conservation leadership of Minerva Hoyt. Minerva was a wealthy South Pasadena socialite and activist. In the 1920s and 1930s she witnessed the degradation of native plants in the California Desert and had the intelligent and passionate dedication to make it her personal mission to save the Joshua Tree National Park region from the wholesale theft of plant resources for backyard gardens of the Southwest.
In the late 1920's Minerva used her passion and wealth to create traveling exhibits of desert plant life. These living displays won numerous major awards and were shown in New York, Boston and London. One of these exhibits is still on display in England, more than 80 years later. They were beautiful, interesting, and most importantly, persuasive.
Here is what Minerva Hoyt had to say in 1929 about problems of commercial exploitation in the California Desert. It should sound familiar:
"Over thirty years ago I spent my first night in the Mojave desert of California and was entranced by the magnificence of the Joshua grove in which we were camping and which was thickly sown with desert juniper and many rare forms of desert plant life. A month ago, when we were forming the Desert Conservation League, I visited that spot again. As a conservation officer interested in prospective desert parks, imagine the surprise and shock of finding a barren acreage with scarcely a Joshua left standing and the whole face of the landscape a desolate waste, denuded of its growth for commercialization.
"A spur of the old trail made in those early days by the gold-seekers found its way out through Horse Thief Canyon into a wagon road which has since become one of our national highways . . . . This highway likewise, I found, makes easy of access the road for the commercial collector, one of the great despoilers of the desert, taking from this arid region, as he does truckloads of rare plant life to satisfy commercial greed. An arid growth is slow growth, hence the irreparable loss which only immediate conservation can check."
Minerva organized the International Deserts Conservation League and was its first president. She campaigned in Washington, D.C. to save the desert with the help of well-known ecologists and botanists, and created a desert portfolio of photographs by famed photographer Stephen H. Willard.
It was not an easy task. She faced opposition from powerful mining interests and even from certain influential figures in the Department of Interior. But she succeeded. Her personal lobbying, knowledgeable and confident, persuaded President Franklin Roosevelt to set aside Joshua Tree National Monument for protection by the National Park Service in 1936.
Despite the creation of Joshua Tree National Monument, the work was not over. New challenges to the pristine and fragile desert environment would be faced from powerful politicians; irresponsible off-road vehicle use which inflicted massive permanent damage to fragile desert soils and biodiversity; continuing influential mining interests; massive land grabs of pristine desert by large industrial solar, wind, and water interests, as well as commercial and residential developers; and, entrenched government bureaucracies resistant to change.
Leading the fight to meet these challenges was Elden Hughes. Like Hoyt, Elden was an inspirational leader of a new generation of desert activists who fought these threats.
Starting in the 1970s, he worked with fellow activists, Senator Alan Cranston, and later with Senator Dianne Feinstein, to pass legislation protecting the California desert. Elden and his wife Patty visited Washington, D.C. repeatedly over many years and forcefully presented the case for wilderness areas and national parks in a desert which had been treated as a wasteland.
After a long and arduous campaign, The Desert Protection Act was passed and signed into law in 1994. It created over 60 new Wilderness areas, elevated Death Valley and Joshua Tree to national park status, and created the Mojave National Preserve under the management of the National Park Service.
But, the challenges continued. Working with Senator Feinstein and the Wildlands Conservancy, Elden was a key figure in helping the Conservancy acquire over 620,000 acres of desert wildlands for permanent protection. The largest non-profit acquisition in United States history, it was completed in 2003. As Senator Feinstein noted, when there is a challenge in the desert, Elden Hughes is the man to call.
And still, the challenges continued‑—the Desert Protection Act of 1994 left some unfinished business. Feinstein introduced the Desert Protection Act of 2011 and Elden was a prominent supporter. The Act will augment the goals of the original Desert Protection Act of 1994 and will create new wilderness areas, make important additions to national parks and add two new national monuments, the Sand to Snow, and the Mojave Trails national monuments.
After his death late last year, Feinstein made this tribute:"Hughes dedicated his life to the protection and revival of our great Mojave Desert and its tortoises. I'll never forget when he brought a couple of tortoises to a large constituent breakfast and the amazed and glowing faces of youngsters when he told them they live for decades. Elden led a huge citizen effort in 1993 to support my Desert Protection Act. We will pass the second Desert Protection Act, now pending in committee, in his honor. He will be greatly missed."
The Joshua Tree National Park Association presented the Minerva Hoyt Conservation Award recently to Elden's widow, and conservation partner, Patty Hughes. The Sun Runner counts Elden Hughes as a true Desert Treasure.
Culture
joshua tree
national park
ecology
environment
desert treasure
feinstein
elden hughes
minerva hoyt
paul smith
desert protection act
patty hughes