The Sun Runner names Leonard Knight a Cultural Treasure of the California Deserts

04/30/2012 12:49PM ● Published by Steve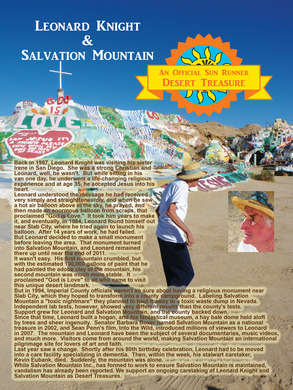 Leonard Knight at Salvation Mountain
Back in 1967, Leonard Knight was visiting his sisterIrene in San Diego. She was a strong Christian andLeonard, well, he wasn't. But while sitting in hisvan one day, he underwent a life-changing religiousexperience and at age 35, he accepted Jesus into hisheart.
Leonard understood the message he had receivedvery simply and straightforwardly, and when he sawa hot air balloon above in the sky, he prayed, andthen made an enormous balloon from scraps, thatproclaimed "God is Love."
It took him years to makeit, and eventually, in 1984, Leonard found himself outnear Slab City, where he tried again to launch hisballoon. After 14 years of work, he had failed.But Leonard decided to make a small monumentbefore leaving the area. That monument turnedinto Salvation Mountain, and Leonard remainedthere up until near the end of 2011.
It wasn't easy. His first mountain crumbled, butwith the estimated 100,000 gallons of paint that hehad painted the adobe clay of the mountain, hissecond mountain was much more stable. Itproclaimed "God is Love" to all who came to visitthis unique desert landmark.
But in 1994, Imperial County officials weren't so sure about having a religious monument nearSlab City, which they hoped to transform into a county campground. Labeling SalvationMountain a "toxic nightmare" they planned to haul it away to a toxic waste dump in Nevada.
Independent lab tests, however, showed very different results than the county's tests.Support grew for Leonard and Salvation Mountain, and the county backed down.
Since that time, Leonard built a hogan, and his fantastical museum, a hay bale dome held aloftby trees and sheer ingenuity. Senator Barbara Boxer named Salvation Mountain as a nationaltreasure in 2002, and Sean Penn's film, Into the Wild, introduced millions of viewers to Leonardin 2007.
The mountain and Leonard have been the subject of several documentaries, music videos,and much more. Visitors come from around the world, making Salvation Mountain an internationalpilgrimage site for lovers of art and faith.
Last year saw a change. Shortly after his 80th birthday celebration, Leonard had to be movedinto a care facility specializing in dementia. Then, within the week, his stalwart caretaker,Kevin Eubank, died.
Suddenly, the mountain was alone.
While Salvation Mountain Inc., has formed to work to ensure Salvation Mountain is maintained,vandalism has already been reported. We support an ongoing caretaking of Leonard Knight andSalvation Mountain as Desert Treasures.
Culture
,
Travel
,
News
art
salton sea
leonard knight
salvation mountain
niland
god is love
slab city
kevin eubank
desert treasure