Twentynine Palms Combat Center wins third Installation Excellence award

05/02/2012 09:33AM ● Published by Steve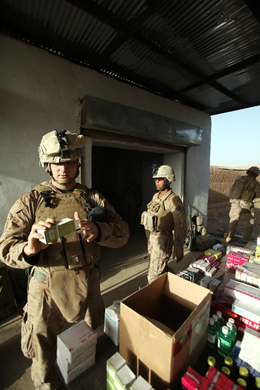 Marines at work at a medical clinic in Afghanistan, by Sgt. Earnest J. Barnes
MARINE CORPS AIR GROUND COMBAT CENTER, TWENTYNINE PALMS, Calif. (May2, 2012) - The Marine Air Ground Task Force Training Command, Marine Corps Air Ground CombatCenter has been recognized for a third consecutive year by the Office of the President of the UnitedStates with the Commander in Chief's Installation Excellence Award.
The award, to be presented today in Washington, D.C., recognizes the efforts of the people whooperate and maintain U.S. military installations and is awarded to the top installation chosen amongthe four military services.
Known throughout the world as the "The Combat Center," the Marine Corps Air Ground CombatCenter is home to the Marine Air Ground Task Force Training Command and serves as theMarine Corps' premier combined arms, live-fire and maneuver training installation. During 2011,MAGTFTC provided training support to more than 44,000 Marines, sailors, and joint andcoalition allies.
In addition to the command's efforts towards its training mission, several major projects werecompleted in order to improve the quality of life for the Combat Center's Marines, sailors andtheir families and to facilitate the command's training activities. Highlights include theconstruction and renovation of five barracks buildings, construction of a new family housingneighborhood, the repair and renovation of recreational and family centers and the ribbon cuttingon the Corps' largest urban warfare training range, the 284 acre CAMOUT facility.
The Combat Center's resource conservation and environmental stewardship efforts also earnedthe command top honors in 2011. The Combat Center was recognized with both the 2011Secretary of the Navy Energy and Water Management Award and the Federal EnergyManagement Program Award. It earned two Secretary of the Navy Environmental Awards forSustainability and the Marine Corps Superior Achievement in Safety Award. The CombatCenter's Phelps chow hall earned recognition as "The Best in the West" and brought home theMaj. Gen. W.P.T. Hill Food Service Excellence Award for best in the Marine Corps.Additionally, the Combat Center became the first command to achieve self-sufficiency in itsContinuous Process Improvement Program, which focuses on operations cost-savings throughefficiency improvements. From conservation to services to savings, the Combat Center set a highstandard for performance during the year.
Through their innovation and dedication to their mission, the Combat Center's military andcivilian team members continually work to ensure the Combat Center serves as a world classtraining installation with the highest quality facilities and quality of life programs.
News
marines
usmc
29 palms
mcagcc
award
twentynine palms