US Bank donates to CSUSB Palm Desert Campus environmental expo

05/02/2012 09:47AM ● Published by Steve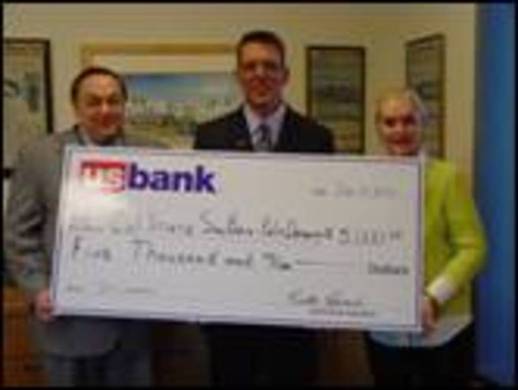 US Bank donates to environmental expo
PALM DESERT, Calif. – US Bank has donated $5,000 to the third annual Environmental and Sustainability Expo, which will be held at Cal State San Bernardino's Palm Desert Campus on Thursday, May 10, and Friday, May 11.
The Environmental and Sustainability Expo will bring together 6-12 graders, college and university students, as well as university researchers and Coachella Valley green industry leaders, to celebrate and learn more about environmental science, sustainability and local and global green projects in a way that emphasizes the importance of environmental sustainability in the Coachella Valley.
The event features award-winning science fair and environmental club projects from students from all three Coachella Valley school districts, as well as local private schools.
CSUSB faculty will demonstrate recent research on environmental science, and representatives from local green industries will be on hand to encourage students to learn more about working in green science fields.
On Thursday, May 10, a reception will take place at 5 p.m. in the campus's Indian Wells Theater, followed by guest speakers Robert Phalen and Boykin Witherspoon at 5:30 p.m. Phalen will speak about "Indoor/Outdoor Air Quality in the Coachella Valley," followed by Witherspoon's talk about "The Future of Land Use Development in Southern California: When Regulations Catch Up with Technology."
Witherspoon, who is a geospatial research manager for the Water Resources Institute at CSUSB, is a focused problem solver with more than 20 years of experience developing protocols and standards for generating various types of environmental indices, including biodiversity. He has international project management experience in developing Geographic Information Systems software used to landscape spaces that limit the impact on the environment. The focus for his work is on the intelligent and responsible use of Earth's resources.
On Friday, May 11, at 11 a.m., the campus will host Rachel Kornak, program development manager at the Redlands Institute. Kornak's presentation, "Mapping Your Impact – The Cost of Being Green," will demonstrate how individual actions have measureable effects on the environment, even when we are trying to be "green."
Students from the Palm Springs Unified School District will screen their top environment-related digital films (DigiComs) at both events.
EcoMotion will place a 37-foot diameter black bomb-shaped balloon on the grassy area in the middle of campus to represent what a ton of carbon dioxide looks like. This is to help people visualize the tremendous amount of CO2 that humans are putting into the atmosphere.
The Environmental and Sustainability Expo is an annual event sponsored by the campus's Palm Springs Institute for Environmental Sustainability. The CSUSB Palm Desert Campus is located at 37-500 Cook St. in Palm Desert.
For more information about the expo, contact Greg Pettis, expo coordinator and director of the Palm Springs Institute for Environmental Sustainability at the CSUSB Palm Desert Campus, at (760) 341-2883, ext. 78168 or gpettis@csusb.edu.
Culture
,
News
palm springs
ecology
green energy
csusb
palm desert
cal state
us bank
environmental
sustainability
expo
school district
ecomotion
water resources institute
witherspoon
phalen