Yucca Valley High School Art Show Opens Tonight

05/04/2012 07:45AM ● Published by Steve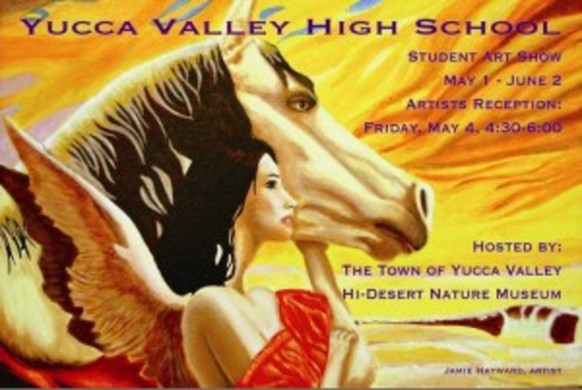 Yucca Valley High School Art Show
The Town of Yucca Valley will present the Yucca Valley High School Art Show May 1 through June 2 at the Hi-Desert Nature Museum. This annual exhibition highlights the finest work of some of this community's rising talent from Yucca Valley High School.  The Sun Runner highly recommends the show as there is some exceptional art being produced by students at the school.
The display consists of paintings and drawings covering a large variety of compelling subjects and artistic styles. An opening reception will be held on Friday, May 4, from 4:30-6 p.m., which is free to the public.
For more than 45 years the Hi-Desert Nature Museum has been dedicated to the process of education by exploring the natural, artistic and cultural heritage of the Morongo Basin and High Desert. The Museum seeks to inspire wonder, discovery, understanding and responsibility in its community and visitors through exhibits, programs, and collections in the arts, history, and natural sciences.
The Hi-Desert Nature Museum is located in the Yucca Valley Community Center Complex at 57116 Twentynine Palms Highway. The Museum is open Tuesday-Sunday from 10 a.m.-5 p.m. Admission is free; donations support the educational mission of the Museum.
For more information, contact the Hi-Desert Nature Museum at (760)369-7212 or visit www.hidesertnaturemuseum.org.
Culture
reception
art
High School
show
Museum
Yucca Valley
hi-desert
hi-desert
student