The Living Desert Opens New Meerkat Exhibit

05/04/2012 07:56AM ● Published by Steve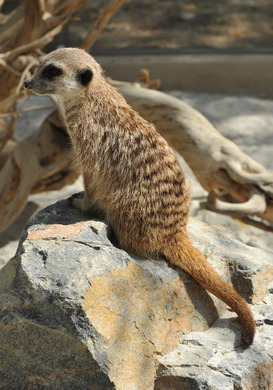 Meerkats at The Living Desert!
The new Meerkat Exhibit at The Living Desert opens May 4.  The exhibit will house the Living Desert's meerkats in the latest of creature comforts, including foraging areas, and burrows, which includes an extensive tunnel and room system.
The 360 square-foot exhibit is constructed at eye level for children and took three months to build.
On Friday, May 4, at 10:15 a.m., you can join approximately 300 meerkat mask-donning children, the exhibit's donor, Lee Miller (who has been a volunteer for 22 years), The Living Desert CEO, Stacey Johnson, and a zookeeper who will offer a "keeper chat" about the meerkats - natives of the southern African plain, who seem to play all afternoon, each taking a turn being the lookout, while the others scamper about.
The Living Desert - 47900 Portola Avenue, Palm Desert.  (760)346-5694, www.LivingDesert.org.
Culture
palm desert
meerkats
living desert
exhibit