Sixth Annual Desert Writers Issue Call for Submissions

05/07/2012 10:05AM ● Published by Steve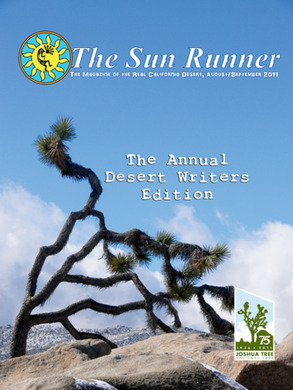 The 2012 Desert Writers Issue is open for submissions through July 5
The Sun Runner Magazine's Sixth Annual Desert Writers Issue
Call for Submissions:
The Sun Runner Magazine is seeking submissions for the publication's Sixth Annual Desert Writers Issue. 
Submissions of poetry, short fiction, essays and prose will be accepted from writers throughout the California desert region, or writers with strong ties to the region.
Submissions must be postmarked or e-mailed by July 5, 2012 to be eligible for consideration.
Submissions sent by mail should be addressed to:Desert Writers IssueThe Sun Runner MagazinePO Box 2171Joshua Tree, CA 92252,Or e-mailed to: publisher@thesunrunner.com (please put Desert Writers Issue in the subject line).
Desert Writers Issue Submission Guidelines 
Submissions for The Sun Runner Magazine's Desert Writers Issue may be mailed to:Steve Brown, Publisher/Executive Editor, at the above address, or sent by email to: publisher@thesunrunner.com.  Submissions must be postmarked or e-mailed by July 5, 2012.  Please note Desert Writers Issue in the subject line.
All material must be submitted in digital format as noted below.  Submissions that are e-mailed should be marked "Desert Writers Issue submission" in the subject line of the e-mail.Material that is mailed should be burned onto a CDR and sent to the address above.
Contributors to the Desert Writers Issue should be full or part-time residents of any area of the California deserts, or have strong ties to the desert.  Authors should submit a short bio, contact information, and if possible, a high resolution photo, along with their submissions.  If not a desert resident at the current time, please describe your ties to the desert.  Additional background information is welcomed about yourself and your work.
Submissions cannot have been published commercially prior to this issue, unless you are sending an excerpt of a newly published book.   If a submission was previously published, please include complete publication information, and a statement that The Sun Runner has the rights to republish your work, and we will consider whether it is possible to re-publish it.
Please note:  We welcome books by desert writers for review in the Desert Writers Issues.
All submissions may be edited for length, grammar, language or other reasons determined to be necessary by the staff.  An attempt will be made to present the author with any revised copy prior to publication, but due to time and publishing constraints, this is not guaranteed, and the author agrees to these terms when they submit material.
If there are special formatting requirements (for poetry lines, for instance), please note them with your submission and we will attempt to follow your guidelines if your poem is selected for publication.
No compensation will be provided for submissions, published or unpublished, and no submissions will be returned to the author.  Several copies of the magazine will be provided to authors included in the issue.  Submission of material means the author is agreeing to allow The Sun Runner one-time print publication rights, along with ongoing Internet publication rights in our digital issues, and the use of the material, and/or portions of the material, the author's name and likeness for future promotion of the Desert Writers Issue and the magazine, without compensation.
No guarantees are made as to whether a submission is published or not, or whether it will be published in print or online.  Submissions will be juried, and decisions made by the editorial panel are confidential and will not be discussed.  All decisions are final.Any material that may not fit the issue's length guidelines may still be submitted for possible inclusion. 
Please e-mail or call if you have any questions or need an exception to any of the above, or any accommodation due to special circumstances. 
Focus: The Sun Runner Magazine's Desert Writers Issue will accept submissions of poetry, short fiction, essays or prose.  Work that includes the desert in some way, is preferred, but not an absolute requirement.
Recommended length of submissions:Poetry, rhymed or free verse; must be 60 lines or less. Short fiction, essays, or prose; no more than 1,200 words.If you have a work outside these requirements, you are free to submit them for consideration, but try to get as close to these as possible due to space limitations. 
Format:Text must be typed, single spaced, using a clean, readable font like Times New Roman, in a Microsoft Word (PC) document (.doc not .docx) or compatible "text only" file, without rich text formatting, columns, or embedded illustrations.
We welcome submissions by artists and photographers for the issue and will include them if appropriate as space allows.  Any illustrations or photographs accompanying works must be a minimum of 300 dpi in .jpg or .tiff format, submitted with the text by e-mail or on a CDR by snail mail (they may also be uploaded through FTP services such as www.yousendit.com, and sent to publisher@thesunrunner.com).  Please supply any applicable source or photo credits.Artwork or photos submitted for possible publication must include all contributor information and submission implies permission to publish under the guidelines above.  Any liability for not following these guidelines is solely the author's.
When submitting work, please submit each work in a seperate titled file (For example, please do not submit seven poems in one file). Please include your name and title in each file.Please include full contact information 
Style Standards:The Sun Runner Magazine uses Chicago Manual of Style format.
For example: Place a comma before the last item in a series.  The American flag is red, white, and blue.
Place punctuation inside quotation marks.  The song was "Amazing Grace."
Spell out numbers one through nine; use numerals for 10 and up.
Italicize titles of books, plays, films, TV shows, newspapers, magazines, CDs/albums.
Please see the following website, which provides further, excellent guidelines for using  the Chicago Manual of Style: http://nutsandbolts.washcoll.edu/chicago.html.
This year's Desert Writers Celebration will be held Saturday, September 29, as part of the 100 Thousand Poets for Change international literary event. Location to be announced. If you have any questions, please feel free to contact our office at (760) 820-1222
Culture
,
In Print
,
News
desert
desert writers
writers
authors
poetry
fiction
book reviews
sixth annual