The Queen of the Desert set to perform at the 2012 Joshua Tree Music Festival!

05/09/2012 04:15PM ● Published by Steve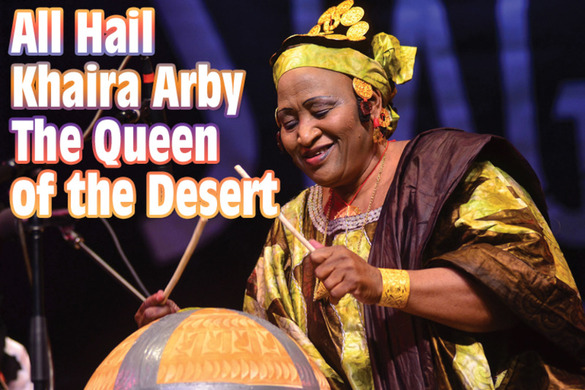 Khaira Arby is coming to the 2012 Joshua Tree Music Festival
Khaira Arby is known as "the Queen of the Desert," and though many of us in this corner of the world may not know of her, after seeing her perform at the Joshua Tree Music Festival this May, it's a good bet that we'll all be willing subjects to Her Majesty.
Arby comes from a village not far from the crossroads city of Timbuktu, in northern Mali. Her band members all come from that desert city, and the music has a definite groove that can only come from a place like Timbuktu, filled with spices, mystery, and movement that has gone on for untold ages.
"The desert is my inspiration," Arby told The Sun Runner. "The vast sky and deep chill at night bring the issues of the day into focus."
Sounds a lot like Joshua Tree.
"It's cold at night. We have a great cuisine, a mixture of cultures. Our traditional cooking has a great subtlety of flavor. When travelers arrive or important personages are guests, or at weddings or family celebrations, we go off into the desert early in the morning and gather the freshest young leaves from the herbs and use them in our cooking to prepare the most spectacular feasts. Our markets have almost everything you could want. But the Internet connections are slow!
Still sounds quite a bit like Joshua Tree.
"Women have it hard in the desert just like everywhere else. Bringing up families is not easy in today's world. And women have it difficult because they are at home and take care of the house and children. It's a never ending day."
Some things are universal, and women frequently having to work harder to succeed, is one of them, it seems. But Arby has taken up, and made her own, one important role of African women in traditional societies—praise singing. This comes across as bluesy homage to the prophet Mohammed, or even to good friends. You can hear the praise accompanied by a mix of high-hat, funky bass and guitar, along with Arby's singing, and driven along by timeless hand-clapping rhythms.
While Arby keeps her traditions close, she's also her own artist. Woven into the traditional praise singing, there can be found serious calls for justice and change. In one song she sings, "Why in a country of beautiful women do men go to war?" Why, indeed? And she's not afraid to fight against serious horrors directed against women, like female circumcision. "I am making people aware so that it ends and so that all Mali fights against it," she says. And she dreams of Timbuktu with a cultural center, at the crossroads of the world once again, filled with learning, light, and creativity. And you can feel that creative pulse across the sandy desert with her music.
All hail the Queen of the Desert!
Culture
Music
joshua tree
desert
music festival
khaira arby
africa
mali
timbuktu