The Ocotillo Forest and YIMBYism

05/09/2012 04:26PM ● Published by Steve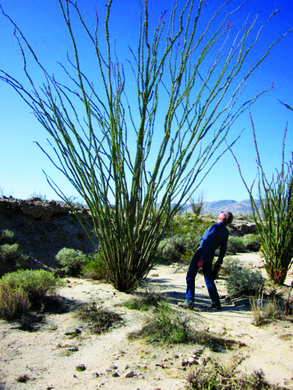 Terry Weiner photo.
By Tom Budlong
I'm betting hardly anyone knows we have a forest in our desert. Most know what an Ocotillo is, but a forest of them? So there it is, just north of Ocotillo, the little town that still is, in extreme eastern Imperial County. (At one time Ocotillo had a local rule that residences could ONLY be trailer homes.) I stumbled onto this forest a few weeks ago when I was checking out the proposed wind turbine installation, Ocotillo Wind Express which will make a mess out of it and fence it various places. Photo No. 1482 is of two of my companions diving in. You can't get lost. The Ocotillo Forest is on a classic desert bajada, so keep going downhill to get someplace where you can see out again.
And these plants are huge. In the forest they start looking ordinary, but get one out on its own. That photo above left, is me trying to size it up. This one chose to grow away from the others, without competition for water and nutrients.
Ocotillos have picked up interesting habits. They leaf out after a rain, any rain, any time of the year. That's why they are green in the pictures—rain happened a month or so before. But they flower each spring, independent of when rains came. The flowers are at the ends of the branches, bright red, tubular, and very noticeable. Through eons of evolution Ocotillos have figured out to make leaves, which make food, any time. But seeds from flowers only germinate in the spring when it's not so hot, so they don't waste time making flowers in other seasons.
A wind turbine developer has its eyes on this place. 'This place' is an island that had not yet been protected. Anza-Borrego Desert State Park is the western boundary. The Coyote Mountains Wilderness is the northern boundary. The Jacumba Wilderness is to the south, on the south side of Interstate 8 where the freeway starts its tortuous climb through In-Ko-Pah Gorge and Devils Canyon. The Yuha ACEC (Area of Critical Environmental Concern) is to the southeast. The Plaster City Open Area, where the dirtbikes and dunebuggies are free to play, is to the northeast. So the wind energy company grabbed the part in the middle for making power to send to San Diego. Logic says that all those bare rooftops in San Diego could do the job, but it's not turning out that way.
County Highway S2 bisects the planned wind turbine array, on its way from Ocotillo to eastern San Diego County. The turbines will stop right at the Anza-Borrego park boundary when the road enters the park.
So you should go see it now, quick, before this place that grabbed my heart and my imagination gets torn up. Here's how. Highway S2 goes north at the Ocotillo exit from I-8 in eastern Imperial County. You go through the scattered town of Ocotillo. About two miles after leaving the freeway S-2 makes a 90-degree left turn to the west and starts angling northwest heading towards the State Park boundary. About four miles from this 90-degree turn look for a dirt road on the left (south side) marked route 109—one of the BLM's route signs. Take it. A car with moderately good clearance can drive it—you don't need four wheel drive or super high clearance. Then again, don't try it in your new Porsche. After about two miles this dirt road Ts into a road following the old abandoned San Diego and Arizona Eastern Railroad line. Turn right. The Ocotillo Forest is on the right.
When I was there a met tower was near this corner. Amet tower—met is short for meteorological—is a skinny pole several hundred feet high with anemometers all the way up it. An anemometer measures wind speed. They put this up for a year or more to determine if there is enough wind for a wind turbine. Since they have decided turbines are a good idea, the met tower will come down and may no longer be the landmark it was in late February. If the met tower is gone look for the disturbance at the site. Look for downed Ocotillos that were rooted up to put in the tower. Near the yellow guy wires in the background is a trimmed Ocotillo that apparently only needed a haircut. The Ocotillo Forest is behind.
When the turbines arrive, this disturbance will be trivial.
While you are out there, wander around the open desert. (Have something a little better than street shoes.) You will find shallow gullies in the bajada with the healthy variety of desert plants and animals that fascinate almost everyone who spends time out there. The plants can't run away, so you see more of them than animals. But this desert has the usual run of animal holes, holes in the sides of the gullies with pack-rat nests and room for burrowing owls, and narrow rodent trails leading between bushes. This place is alive.
People always marvel at the ability of plants to grow and thrive in such a hostile environment—not enough water from rain, hot as blazes in the summer. I like to take a different view. Those plants and animals don't consider their home 'hostile'. To them it's normal, a comfortable home. In fact, they think where we come from is hostile. All that water, shivering cold. It's just a matter of perspective.
The turbines will dominate the desert. The towers alone are more than 250 feet high. The turbine blades are over 350 feet in diameter. The blade tips reach almost 500 feet off the ground. Any birds lower than that are at risk. They will be visible for 15 miles east of Ocotillo, all the way up to Boulder Park west of Ocotillo, from the Coyote Mountains and a good part of the Jacumba Wilderness.
The towers will cover the landscape on a 600-700 foot grid. Each takes a huge base. The huge parts are brought in on huge trucks that must travel on smooth wide roads with wide turns. They are erected with huge cranes from huge parts carried to the sites by more huge trucks. They assemble themselves, erect a tower, and go on to the next. If you do make it out to this site, conjure in your head a truck road through the Ocotillo Forest, and roads filling or crossing the desert washes. Well, at least a turbine field is not as bad as a solar energy field, where the entire site is scraped to bare dirt.
Can't we be more clever?
I live in the city. I see bare rooftops all over. I want those rooftops to make renewable energy, instead of messing up our desert. I want rooftops in my back yard. Yes, In My Back Yard. I'm a YIMBY.
Nimby is dead.
Editor's note: There is a public hearing on the Ocotillo Wind Energy Project on Tuesday, April 24, at 10:45 a.m. at the County Administration Office Building, second floor, at 940 Main Street, Suite 209, El Centro. The Imperial County Board of Supervisors will be discussing whether or not to approve the March 28 Planning Commission recommendation to grant a conditional use permit and height variance for the 425 foot turbines on 12,000 acres of desert habitat directly on the southern borders of Anza-Borrego Desert State Park.Letters may also be sent to The Planning Dept. at 801 Main St., El Centro, CA 92243, and to the BLM at 1669 S. 4th St., El Centro, CA 92243. Emailed letters may be sent to:SylviaBermudez@co.imperial.ca.us; JackTerrazas@co.imperial.ca.us; angelinahavens@co.imperial.ca.us; mariascoville@co.imperial.ca.us, msteward@blm.gov; and cperry@blm.gov, even after the April 24 meeting.
News
anza-borrego
anza-borrego
ocotillo
budlong
wind energy
renewable energy
imperial county
park