The Death of Tourism in our area and across the American West

05/09/2012 05:09PM ● Published by Steve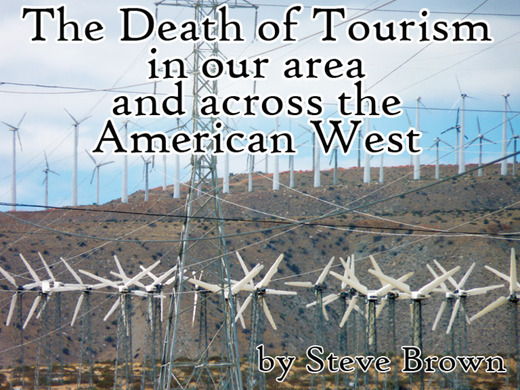 by Steve Brown
By Steve Brown
The death of tourism in our area and across the American West. What could be causing it? Off-roading devestation? Theft and diversion of limited water resources? Rampant sprawl and unbridled development? Evil Republicans bent on environmental destruction?
Nope.
How about a liberal Democrat president and "green" energy?
Ironically, while Secretary of the Interior Ken Salazar touts the Obama administration's belief in the importance of science to eighth graders with a Google+ Hangout on Science, part of the Department of the Interior's "Youth in the Great Outdoors Initiative," the administration may mark the end of the great American outdoors, and the way of life that has gone with it.
President Obama's America's Great Outdoors Progress Report from 2011 details that "National Parks see more than 280 million visitors, generating $12 billion in visitor spending and supporting nearly 250,000 jobs," and notes that the Outdoor Industry Association estimates recreational activities including hiking, camping, and fishing contribute $730 billion to the U.S. economy, support more than six million jobs, and generate $289 billion annually in retail sales and services.
"Easy access to quality outdoor recreation areas is something that all Americans should enjoy—whether they are young or old, live in rural or urban areas, and no matter how take advantage of the natural world," says Secretary of the Interior Ken Salazar. "Under the banner of America's Great Outdoors, President Obama has made it clear that conservation is a priority for this administration. We will continue to invest in land and water projects that have the backing of communities who depend on the job-creating power of the outdoor economy."
Information about the America's Great Outdoors Initiative (it's slogan is, "A Promise to Future Generations") notes that among other regions, "the southwest deserts," will be the subject of inter-agency collaboration on landscape-scale conservation.
That is, if there's any of it left to conserve when the very same administration gets through with it.
One Department, Two Opposing Agendas
The Department of the Interior notes that it is the manager of 20 percent of the nation's public lands, and a further 1.7 billion acres off its shores. Interior notes that, "Within the Southwest, our Bureau of Land Management manages 30 million acres of public lands with solar potential. We have set aside 1,000 square miles of BLM lands in 24 solar-energy study areas and are evaluating these lands for appropriate development."
Meanwhile, the Bureau of Land Management, which has taken the point on fast-track solar projects, notes that as of the end of 2010, "there are 147 solar applications pending. Of those, 104, comprising 1 million acres, are "first-in-line" applications." (As of the end of 2011, the total number of major renewable energy projects approved by Interior totaled 22, including 13 commercial-scale solar energy facilities).
The BLM notes that some managed public lands are not available for alternative energy production. National Conservation Areas "with the notable exception of the California Desert Conservation Area," are not available, while Areas of Critical Environmental Concern "may also not be suitable for development." Note the use of may because it appears the BLM is allowing ACECs to become candidates for development, raising the question of how you justify destruction of areas of "critical" environmental concern for "green" energy production.
The BLM's news release on the Draft Solar Programmatic Environmental Impact Statement from December notes:
The modified preferred alternative also establishes a variance process, going forward, that will allow development of well-sited projects outside of solar energy zones on an additional 20 million acres of public land. BLM Priority Projects that are already being processed will not be subject to the proposed new variance process.
The Supplement makes clear that Interior's solar program will incorporate other, state-based planning efforts to establish additional solar energy zones. Planning efforts that are currently looking at establishing new zones include: the Arizona Restoration Energy Design Program, the West Chocolate Mountains Renewable Energy Evaluation, and the California Desert Renewable Energy Conservation Plan. The Supplement also makes clear that there is opportunity for industry, the public and interested stakeholders to propose additional zones for consideration.
"Tapping the vast potential of solar resources in the Western states will go a long way to diversifying the country's energy portfolio and re-establishing our position as a clean energy leader in a global market worth trillions of dollars in the long term," said U.S. Energy Secretary Steven Chu.
But wait. The Department of the Interior notes that 1,000 square miles of BLM lands are being set aside in benign-sounding "solar-energy study areas," to be evaluated for "appropriate" development of solar projects. The BLM say that there is an additional 20 million acres (over 30,000 square miles) of public land, plus state and private and other federal agency-managed lands, that can be developed for solar energy, with 20.6 million acres of lands with the potential to generate wind power.
In the desert, Salazar recently approved transmission for a solar thermal "power tower" project that is sited on privately held lands in Rice. The 1,410 acre project (small by Ivanpah, Blythe, and Desert Sunlight standards) is planned for a historical site of an Army airfield.
For those of you who have driven east on Route 62 from Twentynine Palms, the vistas around Rice are expansive and nearly untouched by humans (the highway, a rail line, a few dirt roads stretching off in the distance to provide lines of perspective, a little rubble and the obligatory shoe and bra tree display, and that's about it). One can imagine Native Americans, prospectors, Wyatt Earp, and Patton wandering about at different times in history. Now, smack dab in the middle of all that will be over two square miles of mirrors pointing at a "power tower" filled with molten salts, with high voltage transmission lines leading off into the distance since there are no population centers to be found nearby.
Studies have indicated these kind of industrial power installations can prove deadly to birds who can't see the thermal energy being reflected by the mirrors until they fly between the mirrors and tower. Forget fried chicken. How about fried red-tailed hawk or other raptors and migratory birds that may pass that way?
But after you thnk about the environmental impacts of siting a bird-frier over a hundred miles from where the power it produces will be used (and it will lose a significant portion of the power it produces during transmission), think too about the European, Asian, or urban American tourist exploring the great untrammeled American deserts. Think about their surprise when a destination they've been told will inspire them with vast iconic vistas that stir their imaginations with imagery that can only be found here no longer exists.
When the great American road trip that exemplified a unique form of freedom only takes you casino-to-casino past endless lengths of buzzing high voltage power lines, miles of scraped, barren desert filled with glaring mirrors, dust, and the occasional tortoise or hawk skeleton, and ridgetops covered with 400-foot spinning windmills, will that be a trip you'll want to repeat?
When you head out to explore the desert's natural wonders, its hidden historical and cultural treasures, and get away from it all, will you return to wander and explore this new "green" wasteland?
85,000 Acres of Wind Turbines Around Joshua Tree National Park
Closer to home, this is an issue that is hitting hard as more than 85,000 acres of wind development has been proposed for areas on and around the borders of embattled Joshua Tree National Park."This will be the death of tourism in our area and the American West. The $64 million effect created by Joshua Tree National Park will be impacted," Twentynine Palms innkeeper, lawyer, historian, business instructor, and environmentalist Paul Smith noted at a recent tourism committee meeting of the Morongo Basin Regional Economic Development Consortium. "This will be a massacre of our tourism industry."
Smith added that this scale of development will cut off recreational use of a vast area of public lands, as well as further isolate Joshua Tree National Park as an ecological island, placing it in environmental jeopardy (the park is already coping with numerous threats to its ecological integrity).
Smith's "death of tourism" assessment may sound extreme, but he's right. With vast stretches of windmills (over 135 square miles), along with the roads, staging areas, pads, noise, transmission lines, substations, and flashing lights at night, the desert may begin to look like a large vacant lot in an otherwise urban area.
A Joshua Tree National Park visitor study conducted by the University of Idaho sums up the visitor perspective succinctly. Visitors were asked about what features or qualities were either very important or extremely important. Visitors found clean air (94 percent), natural quiet, including the sounds of nature (93 percent), views without development (87 percent), and solitude (80 percent) to be extremely or very important qualities for their park experience. In short, visitors to Joshua Tree National Park find a sense of natural peace and a feeling of solitude very important—and central—to their experience with the park. Take that feeling away from the 1.4 million or so annual visitors coming to the park, and logically, you'll take away their core reason for coming. Say goodbye to the $64 million dollars flowing into the economies of the Joshua Tree Gateway Communities.
These findings can be applied across the desert. Windmills along butte ridges near Pioneertown mean no more interest in filming on Mane Street (although they may mean incredible pyrotechnic displays during the next wildfire, that oddly enough, could begin from a lightning strike to a windmill). The Old West movie spirit of Pioneertown will be overshadowed by rows of 400-foot spinning turbines, and unspoiled buttes will be gashed with access roads and pads, obliterating Native American cultural resources and previously undisturbed habitat.
"We think our country needs to invest in renewable energy in ways that will not jeopardize our national parks and wildlands," says National Parks Conservation Association Desert Representative Seth Shteir. "It doesn't make sense siting them near park borders. It's counterintuitive to destroy habitats to save them. Parks can't remain biologically isolated islands."
With respect to tourism, Shteir notes that the visitor experience is "directly reciprocal with the local economy."  If tourists perceive their "natural" experience with desert parks and wildlands to be negative, then there will be a negative impact on the local economies around desert parks. "If we do enough damage we could inadvertently harm the desert's economy."
Shteir notes that the BLM's Solar Programmatic EIS received over 80,000 comments. Based on that, the boundary for development is supposed to be pushed back from Joshua Tree National Park. But whether a satisfactory "buffer" can be found, or whether there is one in reality at all, is still to be seen.
The Mojave National Preserve has the giant Ivanpah solar project nearby, and people in the know say what the desert has seen so far is just the tip of the iceberg, an interesting analogy for a vast government and corporate initiative ostensibly to combat global warming (though it has the look and feel of a corporate welfare project with politics driving it instead of science).
Blinking Red Lights
With over a 10-to-one ratio for pumping money back into the local economy (Joshua Tree National Park's annual budget is roughly $6 million, with a $64 million, 800 job effect on the local economy), and 1.4 million annual visitors from all across the world (with international visitation climbing), Superintendent Mark Butler is noticeably concerned about the impact potential energy development can have on the national park in his charge, but occasionally even he even seems overwhelmed with the challenges facing the park.
"Think of all the red lights blinking across the desert," he tells me, more than once, pointing at the enormous wind development plots on a map of the park and its surroundings. He seems overcome by the image of a sea of more than a hundred miles of blinking red lights and giant propellers cutting off park wilderness from surrounding wildlands. And he's worried about what it will do to park visitation. He notes not only will industrial-scale wind development spoil the popular vistas in and around the park, but they'll cut off recreational access to the BLM lands where they'll be sited, and to the border of the park in some areas. They'll also cut off wildlife corridors, further isolating this ecological treasure.
In a recent meeting we covered the wind and solar developments proposed or presently being constructed around the park's borders, the hydro-electric power project proposed for the old Kaiser mining pits at Eagle Mountain (it will actually use more energy than it produces), and the zombie-like threat of the Eagle Mountain dump (Kaiser's Mine Reclamation Corporation may have filed bankruptcy, but that doesn't mean they can't rise from the dead to try one more time to build the world's largest dump on the southern border of Joshua Tree National Park).
Butler sees the threats to the park clearly, and is intent that the park has a say in its own future. He takes his responsibility to the American public seriously, as a caretaker to our lands. Near the end of our meeting, he holds up a map of Joshua Tree National Park. Down at Eagle Mountain is the center of a large red circle that looks like a nuclear blast zone. It's an analysis of tortoise predation and what Butler refers to as "a garbage dump ecosystem." He points to the obvious. "That covers up to 75 percent of Joshua Tree National Park, including prime desert tortoise habitat."
Butler is reaching out to gather support for the park from areas like the Coachella Valley, which has a history of supporting the dump. "We're all looking for ways to differentiate ourselves," he notes, in reference to tourism. "The Coachella Valley doesn't want to be known as the gateway for 20,000 tons of garbage every day for 115 years being dumped into the heart of Joshua Tree National Park."
Tip of the Iceberg
As I leave Butler's office at national park headquarters on the Oasis of Mara, I think of the disturbing news coming from the south at Anza-Borrego Desert State Park where industrial wind projects threaten the integrity of that beautiful desert park. I think of Rice and its unspoiled vista, never to be seen again. I think of the disaster that is Ivanpah, the obliterated geoglyphs of Blythe, the Eagle Mountain dump that won't die, and projects seemingly planned for all my favorite places across the desert, and I think of all that we're just now beginning to lose. And I think of the comments about what we're seeing now being the tip of the iceberg, and I shudder.
We used to talk about the desert being under siege. Well folks, the siege is over. The enemy is inside the walls, and the war has begun. We either fight, or the desert people come to explore, the desert we love and respect, with its vast inspirational and soul-replenishing vistas, its wild spirit, and its seemingly endless beauty, is a thing of the past. We welcome your thoughts and comments.
News
sun runner
joshua tree
death valley
mojave
steve brown
anza-borrego
national park
ivanpah
wind
solar
green energy
paul smith
tourism
preserve
seth shteir
blm
doi
interior
bureau of land management
eagle mountain
kaiser
eis
obama
salazar