Valley on Fire: A Rallying Call to Save the Ivanpah Valley from Solar Sunburn

05/11/2012 09:08AM ● Published by Steve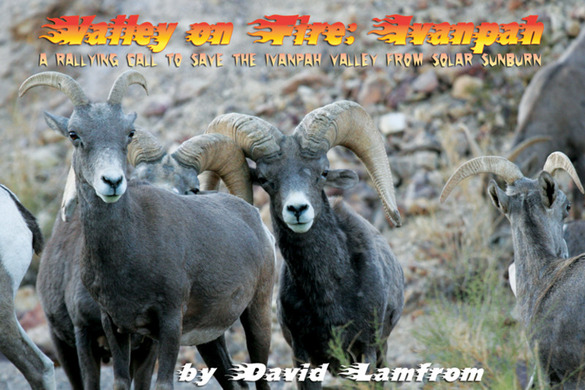 Valley on Fire by David Lamfrom, NPCA
Photo & story by David Lamfrom, National Parks Conservation Association
We are driving east, on a rugged powerline road in Clark Mountain's shadow. The 8,000 foot peak is covered in snow. Pinyon-juniper forest commands the windshield view, with Joshua tree woodland in the rearview. As we negotiate the rocky pass with its perilous drop-off, we see the shimmering dry lakebed of Ivanpah Valley encircled by tall peaks.
We get out of the truck. From this viewpoint, all I can see is Mojave National Preserve and three wilderness areas. My passenger is a botanist by training, who marvels at the diversity of cacti: beavertail, barrel, calico, cotton-top, foxtail, fishhook, and mound, until she finds a unique agave with a limited range in California. Botanists are excited by these things. I know this plant as well, one of the smallest agaves. June hikes in the Clark Mountains feature the explosion of their 10-foot flowering stalks, which are attended by a range of insects and hummingbirds, and serve as lookout towers for desert spiny lizards. This experience contrasts with the intention of my first trip here. I came to the Clarks in 2008 to understand the visual impacts of the proposed Ivanpah Solar project to Mojave National Preserve. This valley is at an ecological crossroad, intersected by a political crossroad. We will decide this valley's eternal fate in the next few years.
The Ivanpah Valley is a biologically-diverse region and home to important desert tortoise migration corridors connecting populations in Southern Nevada with those in California's Mojave National Preserve. Unfortunately, it is also ground zero for our nascent solar energy industry. Industrial-scale solar projects are being built and more are proposed for those precise Bureau of Land Management areas. Projects currently underway include Ivanpah Solar (3,400 acres) and Silver State North (600 acres). Projects proposed for construction include Silver State South (2,900 acres) and Stateline (2,000 acres). Approval and construction of these proposed projects will result in severing migration corridors for the federally threatened desert tortoise.
Coupled with other proposed projects such as the upgrade of the El Dorado transmission line, development of a high speed rail line, an agricultural check station, and the Ivanpah International Airport, these projects will completely build out the valley. Such development puts its immense scenery, iconic species such as the desert tortoise, and biological values at risk. The National Parks Conservation Association is speaking out against further development in this valley—but is only as strong as the sum of its supporters—and needs your help.
These proposed actions should be weighed cumulatively, in terms of their impact to species, scenic vistas, water resources, recreation, tourism, and their cost to taxpayers who will subsidize grants, loans, and tax incentives for industry, while footing the bill to recover the threatened species harmed by such development. Species that forage and migrate within the Ivanpah Valley will also be affected. Unmitigated impacts will continue to Mojave National Preserve, the third largest National Park Service unit in the lower 48 states, which receives more than 600,000 recreational visits per year and contributes more than $12 million in annual visitor spending to local economies. Viewscapes, reported as one of the top visitor attractions at the preserve, will also be marred, from the mountaintop views throughout the northern Preserve and Clark Mountain Wilderness which stands above Ivanpah Solar.
Despite the dark picture painted, the desert sun burns brightly with opportunity for citizen action, comment, and input in defense of this important desertscape. Advocates have fiercely defended the Ivanpah Valley, and local, regional, and national groups including the National Parks Conservation Association continue to speak out, to save the valley.
Various opportunities are available for you to take action. Becoming involved with the public process and submitting written comments are one of the best ways to share your voice with decision makers.
Currently, an Ivanpah Valley Area of Critical Environmental Concern has been proposed as an alternative to further renewable energy development in Ivanpah Valley. Contacting California and Nevada BLM offices to share your position on this action is a good way to influence policy. Another action is to contact the elected officials whose districts are represented.
The BLM is working on its Resource Management Plan in Southern Nevada. Calls can be made and letters can be sent related to proposed projects, comments on species and habitat protection, comments on impacts to cultural resources and viewshed, etc.
California BLM (Moreno Valley or Sacramento) can be contacted with comments similar to those listed above for Nevada BLM.
Attend and give public comment at the Desert Renewable Energy Conservation Plan meeting (www.drecp.org). This forum is sparsely attended by advocates and seeks input from the public, desert counties, the state, and the federal government.
Contact the Secretary of the Interior via phone call or email to voice your opinion about protections for national parks and preserves.
Cross-pollinate by developing written comments and forwarding them to your county supervisor, state elected officials, the California, Nevada, and national BLM offices, to the California Energy Commission, to the DRECP, and to any local or national environmental groups you support through membership, volunteering, or taking action.
For more information visit the Solar Energy Development Programmatic Environmental Impact Statement for solar energy development in six Southwestern states at:www.solareis.anl.gov.
Key Contacts
Brad Mitzelfelt, First District San Bernardino County Supervisor: 909-387-4830
Neil Derry, Third district San Bernardino County Supervisor: 909-387-4855
Josie Gonzalez, Chair, San Bernardino County Supervisor: 909-387-4565
Greg Helseth, Clark County, NV, BLM: 702-515-5173
Teri Rahml, Jeffrey Childers, California Desert District BLM (director & planner): 951-697-5200, jchilders@blm.gov
Ken Salazar, Secretary of the Interior: feedback@ios.doi.gov
Vicky Campbell, BLM (DRECP Program Manager): 916-978-4320, vlcampbell@blm.gov
Scott Flint, CEC (DRECP Program Manager): 916-651-3774, sflint@energy.state.ca.us
Shannon Stewart, BLM-PEIS lead: 202-912-7219, shannon_stewart@blm.gov
Support the National Parks Conservation Association: http://www.npca.org/
News
Conservation
mojave
Habitat
ecology
ivanpah
solar
renewable
california
preserve
blm
doi
salazar
cec
lamfrom
npca
national parks
clark mountain
tortoise
migration
green
energy
nevada
acec