Desert Bulletin - Missing: Jim Baker, Salton City

05/15/2012 05:15PM ● Published by Steve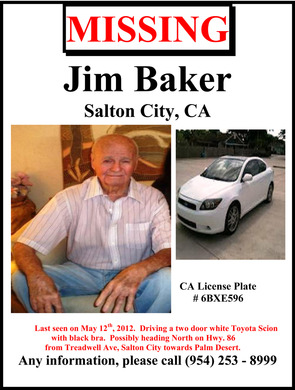 Jim Baker
May 20, 2012: Baker was found on Saturday by a retired fireman around 11 a.m. His car went off the road in a remote area about seven miles from his home in Salton City. He apparently had had a stroke.
Baker's family now has closure, and would like to express their sincere appreciation to everyone for your concern and assistance with the search.
Last seen on May 12, 2012. Driving a two door white Toyota Scionwith black bra. Possibly heading north on Highway 86from Treadwell Avenue, Salton City towards Palm Desert.
Any information, please call (954) 253 - 8999
CA License Plate# 6BXE596
News
palm desert
missing
jim baker
salton city
treadwell
toyota
missing person