Route 66 Designated Scenic Highway from Oro Grande to Arizona State Line

05/22/2012 01:46PM ● Published by Steve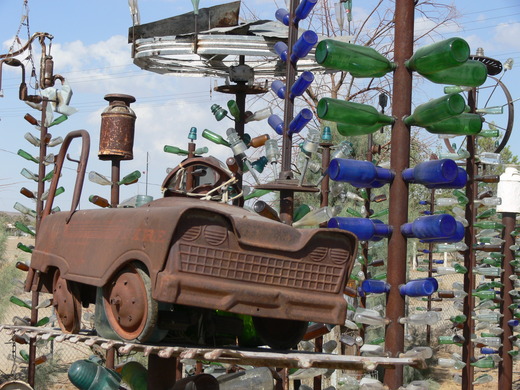 Bottle Tree Ranch, Route 66
SAN BERNARDINO – At the recommendation of First District Supervisor Brad Mitzelfelt, the San Bernardino County Board of Supervisors have approved designating San Bernardino County Route 66 as a scenic route from Oro Grande, just north of Victorville, to the Arizona state line.
"Route 66 is a historical and cultural icon that is celebrated both in America and around the world," said Mitzelfelt. "It's also an economic asset that is underutilized in San Bernardino County and this designation will ensure that scenic views are protected and that future development will be appropriate to the spirit of Route 66 and will attract additional national and international tourists."
Route 66, also known as National Trails Highway in much of Mitzelfelt's Mojave Desert District, had previously been designated a county scenic highway from Oro Grande to Lenwood in the Barstow area. Today's action extends that designation along the rest of the desert portion of the route, east to the Arizona state line.
The designation requires that future development projects should not significantly affect the scenic views along the route and must meet certain development standards, including limitations on the size of signs, and a requirement that projects blend in with the natural setting as much as possible.
Mitzelfelt last year successfully pushed for adoption of a county route numbering system. County Route 66 was the first county highway to get the designation and signs are now posted along the route and have been well received by the public, especially tourists. Today, the Board of Supervisors approved an additional route, Route R8, in the San Bernardino Mountains.
Additionally, given the rush toward development of solar energy projects in the desert, Mitzelfelt said he wanted to make sure any solar projects proposed along the route will be sited to minimize visual impacts and respect the cultural and historical character of the route.
A number of county roads, including 19 in the desert, already have the scenic designation. Scenic points of interest along Route 66 include the Amboy Crater, the Lavic Lake volcanic field, and Pisgah Crater.
In a separate action, also at the recommendation of Mitzelfelt and geared toward improving awareness of the desert's historical, cultural and ecologic treasures, the Board of Supervisors approved an agreement among the County, the U.S. Bureau of Land Management and other educational, historical, business and resource groups to become a partnering agency with the Desert Discovery Center in Barstow.
"This agreement will bring new energy and resources to the Desert Discovery Center, which is another great educational attraction in the desert," Mitzelfelt said.  For more information about the Desert Discovery Center, call (760) 252 6060 or visit www.desertdiscoverycenter.com..
Culture
,
Travel
,
News
tourism
blm
mitzelfelt
san bernardino county
route 66
scenic
board of supervisors
oro grande
victorville
lenwood
barstow
needles
amboy
ludlow
goffs
essex
cadiz
national trails highway
arizona
mother road
pisgah
lavic lake
amboy crater
desert discovery center