Change for a Dollar takes the audience vote at Shorts Showcase

05/30/2012 11:14AM ● Published by Steve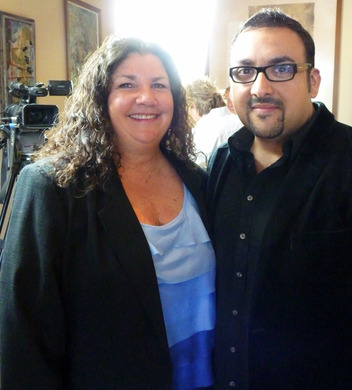 Leanna Bonamici and Christian Sesma from Shorts Showcase
Now in its third year, Shorts Showcase, a short film program based in the Coachella Valley and running on southern California PBS station KVCR, held its annual awards screening and ceremony last night at the Camelot Theatres in Palm Springs.
The screening at the Camelot featured the 10 most popular short films from this season's programming (Shorts Showcase airs to 18 million homes throughout southern California), and let the audience chose the winner, Sharon Wright's "Change for a Dollar."  The awards ceremony was followed by a wrap party held upstairs at Lulu's California Bistro.
"Change for a Dollar" has become a viral sensation online, garnering more than a million views.  It has won the Telly Award for Social Justice, was a Webby Award Honoree, and was the Audience Choice award winner for the Moonlight and Gateway film festivals.
Wright is an award-winning actress in attendance for Tuesday's awards ceremony.  The ceremony, along with numerous interviews of filmmakers and supporters of Shorts Showcase, was filmed itself, for inclusion in an upcoming feature in Shorts Showcase.
Entering its second season on PBS, the half hour one-of-a kind Shorts Showcase brings festival quality short films from all over the world right to millions of southern California living rooms and features exclusive interviews from top industry producers, directors, actors, casting agents and more. The show also hosts Insider Tips, providing quality information on tools of the filmmaking trade from industry pros.
Filmmaker, Christian Sesma, hosts the show. "Christian is a perfect example of the indie filmmaker. He started making short films and has now made several features. We are delighted to have this innovative, dedicated and really fun filmmaker for our show," said Leanna Bonamici, creator and producer of Shorts Showcase, under the CV Studios Entertainment banner.
"Shorts Showcase provides exposure for filmmakers and a new life for their short films" said, Bonamici. "Our show reaches the living rooms of the people that work in Hollywood... great for our filmmakers!" says CV Studios Entertainment CEO, Carole Sumner Krechman.
Filmmakers attending the screening and awards ceremony agreed.  The show, found online at www.shortsshowcase.com, is seen Tuesday evenings on KVCR TV at 10:30 p.m. and early Saturday mornings at 12:30 a.m. weekly.
Culture
palm springs
film festival
film
shorts showcase
awards
christian sesma
leanna bonamici
short film
tv
pbs
kvcr
camelot
theatres
carole sumner krechman
cv studios
shorts
television
change for a dollar
sharon wright
lulu's california bistro