Crazy Cactus Grows Wild in Barstow!

06/01/2012 04:26AM ● Published by Steve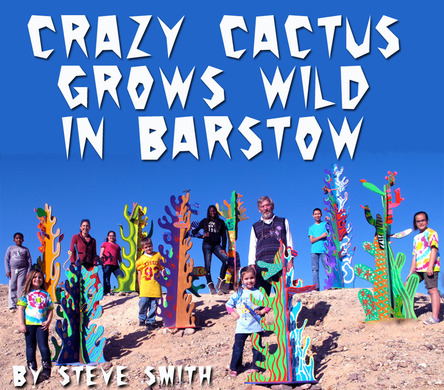 As you trek through the desert you run across, hopefully not literally, all sorts of cactus. Of all the cactus out there one was born in Barstow and is now spreading all over southern California—Crazy Cactus.
A bit of honesty, Crazy Cactus aren't really cactus but are an interesting art project with an environmental and educational beginning.
In Barstow we have a group that is dedicated to putting up historical murals, Main Street Murals, and as a side project they run a popular after school program that teaches various aspects of our history and environment.
In 2011, the after-school group, under the leadership of production designer and artist David Brockhurst, used some cast-off pieces of leftover wood from an Earth Day mural project to paint and assemble the colorful and desert-inspired Crazy Cactus. The kids, and I suspect David, enjoyed painting and assembling the large pieces of art.
"It feels good to know that we haven't wasted any materials and we have created something unique to the Mojave Desert region that is youth-driven, plus we had great fun during the creative process!" said Brockhurst.
At first the Crazy Cactus were displayed at the Desert Discovery Center in Barstow but soon word got out about the cactii and a gallery show was arranged at the Kelso Depot in the heart of the Mojave National Preserve to great acclaim.After that show the Crazy Cactus are scheduled to hit the road again.
They are scheduled for a showing at the San Bernardino County Museum with an opening reception on Friday, June 29.
Who knows where the Crazy Cactus will pop up again? Stay tuned to find out.
"There was so much joy surrounding the creation of these sculptures, the collective exhibition exudes enthusiasm and we hope it is infectious!" noted Jane Laraman-Brockhurst, Main St. Murals' president.
Funds raised through the Crazy Cactus project will be used to support the after-school youth program which is in its sixth year and continues to offer free environmental education at the Desert Discovery Center.
For more information visit www.mainstreetmurals.com and www.desertdiscoverycenter.com.  You can like Main St. Murals on Facebook, or better still, come by and visit the Desert Discovery Center which is located just off the I-15 at the Barstow Road turn-off at 831 Barstow Road, Barstow. All enquiries please call (760)220-4351.
Culture
reception
sun runner
barstow
desert discovery center
steve smith
crazy cactus
main street murals
murals
david brockhurst
jane laraman brockhurst
kelso depot
san bernardino county museum
sculptures