Update: Missing Person Found

06/08/2012 03:22PM ● Published by Steve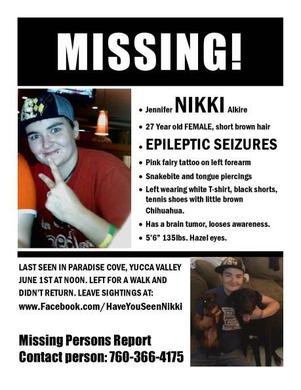 Jennifer "Nikki Alkire, a 27 year-old woman with short brown hair, went missing from Paradise Cove in Yucca Valley, June 1, around noon.  She left for a walk with her dog and did not return.
A large combination of search and rescue and informal searching efforts followed the announcement of her being missing, especially as she was known to have health problems that included serious seizures.
On Sunday, a message posted by her uncle on the Facebook page dedicated to finding Nikki indicated she had been found.  The message stated:
Attention friends and loved ones. It pains me as Jennifer's ( Nikki's ) uncle to bring you the news today. In spite of the efforts you put forward and all of the love and well-wishes, we have bad news. Jennifer ( Nikki ) was found today, passed away.
According to reports we have Jennifer appeared to have a massive seizure and fell head first into a rock. She passed instantly and did not suffer. It also appears that she passed on the very same day that she went missing.
My family wants to thank each and every one of you for posting and sharing our story with the world. You brought us hope in the face of fear. We know now where she is and she will be in God's hands now forever. The search is over.
We will be posting a schedule for services as soon as we have made all of the arrangements.
Lucy ( Nikki's dog ) has not been located. We would like to know where she is still.
Thanks again for a valiant effort. God has a special place for all of us but you folks deserve his best. God Bless
The Sun Runner extends our sincere condolences to Nikki's family and friends for your loss.
News
Yucca Valley
missing person
nikki
jennifer
alkire
epileptic
paradise cove