Yucca Valley's Soroptimist International Installs Officers

06/08/2012 03:36PM ● Published by Steve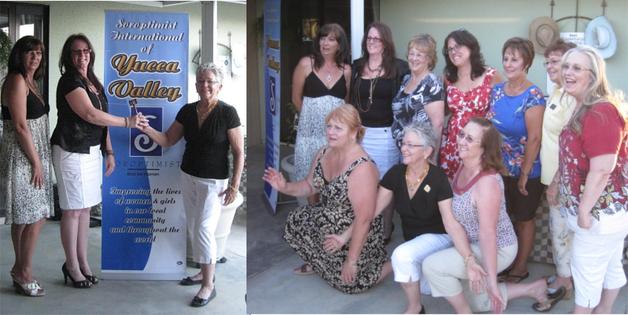 Soroptimist Yucca VAlley
The Soroptimist International of Yucca Valley held their 46th Installation of Officers for the coming year 2012-13 with Linda Poindexter taking the lead as president.
Photo: Left to right: Installing Officer Pam Schmidt, Incoming President Linda Poindexter, outgoing President Wanda Stadum. Top row Pam Schmidt, President Linda, Vice President Linda Paino, Recording Secretary Dianne Swella, Treasurer Angie Whelchel, Director Charlotte Hughlett, Delegate Laura Jensen. Front row: Director Sunny Smith, Director Wanda Stadum and Director Tara Hough. Not Pictured: President- Elect Rosalyn Schiller and Corresponding Secretary Shelley Licata.
The club works each biennium from August through June to improving the lives women and children in the local community and throughout the world. Last year, club members participated in 12 Service Projects and four fundraisers. Over $5,000 was raised to be given out to various worthy causes next year.
The Women's Opportunity Award winner, Michelle Caldwell, a student at Copper Mountain College, was a finalist at the Golden West Region Spring Conference last weekend in Las Vegas and was awarded an additional $4,500 from Region and Federation for her continuing education in Criminal Justice.
The Governor's Award for Public Awareness was given to the SI Yucca Valley Club for their Service Project "Community Disaster Preparedness Day" which took place on October 10 during the Great California Shake out Day.  
Z107.7 FM radio station donated staff time to write community service spots on how to prepare for a disaster, donated the radio time to air the announcements, and also donated a live broadcast in the parking lot of the Hi-Desert Star. The Hi-Desert Star donated staff time, advertising space to advertise the event and donated their parking lot for the event.
Noon Rotary Club helped raise funds with the Soroptimist members to purchase disaster supplies for the emergency pods throughout the Morongo Basin maintained by Certified Emergency Response Team, a branch of the County Fire Department. 52 Clubs applied for the award and club members say it was an honor to bring it back to the community and it's volunteer committee members.
Membership in Soroptimist International is open to women who want to do good works and help women & girls. For more information on the Yucca Valley club, call Rosalyn Schiller at (760)902-2265.
News
service
Yucca Valley
international
soroptimist
linda poindexter
pam schmidt
wanda stadum
linda paino
dianne swella
angie whelchel
charlotte hughlett
laura jensen
sunny smith
tara hough
rosalyn schiller
shelley licata
michelle caldwell
copper mountain college
cmc
las vegas
disaster preparedness
shake out
rotary club
cert
morongo basin
fire department