Red Flag Warning in Effect for Most of California Deserts

06/18/2012 07:06AM ● Published by Steve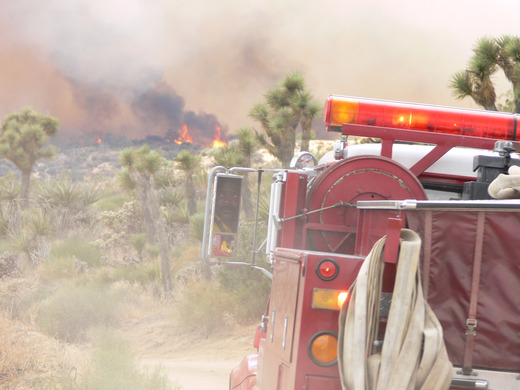 The National Weather Service has issued a Red Flag Warning for the mountains and deserts for this afternoon through early Tuesday evening.  An Excessive Heat Warning has also been issued for parts of the California desert region.
Areas under the Red Flag Warning include the San Bernardino National Forest, the San Jacinto Ranger District of the San Bernardino National Forest, San Diego County Mountains, Victor Valley, Apple Valley, Lucerne Valley, Johnson Valley, the Coachella Valley, and southern deserts including Anza-Borrego Desert State Park.
Winds are expected from 15 to 25 miles per hour, with gusts to 55 mph.  The relative humidity is expected to be around 5 percent, with poor overnight recovery.  The strongest winds are expected for late Monday afternoon through Monday night, with gusty west winds up to 45 mph continuing into Tuesday evening.
A Red Flag Warning means critical fire weather conditions are either occurring or will shortly occur.  A combination of strong winds, low relative humidity, and hot temperatures, create explosive fire growth potential.
The Excessive Heat Warning includes the lower Colorado River Valley, and portions of Riverside and Imperial counties., including Blythe, Chiriaco Summit, Desert Center, Brawley, Calexico, and El Centro.  The warning remains in effect today from 10 a.m. to 8 p.m.  An Excessive Heat Watch is also in effect for the lower deserts of far southeast California.
Temperatures this hot will make working outdoors considerably more difficult.  heat stroke will be more likely for those engaging in strenuous outdoor activities.  The heat can cause undue health difficulties for the elderly and those without air conditioning or cooling.
Take extra precautions if you work or spend time outside whenever possible.  Reschedule strenuous activities to early morning or late evening.  Watch for the signs and symptoms of heat exhaustion and heat stroke.  Wear lightweight, loose-fitting clothing, and drink plenty of water.  Wearing a wide-brimmed heat will keep your head and body much cooler.
The Occupational Safety and Health Administration recommends scheduling frequent rest breaks in shaded or air conditioned environments.  Anyone overcome by heat should be moved to a cool and shaded location.  Heat stroke is an emergency, so call 911 if someone is experiencing its warning signs.  Elderly and families without cooling should contact local government for cooling centers in their communities.
News
summer
borrego springs
anza-borrego
wind
Weather
blythe
johnson valley
coachella valley
el centro
wildfire
fire
apple valley
victor valley
arizona
heat
excessive
warning
red flag
deserts
mountains
national weather service
watches
riverside
imperial
yuma
lucerne
brawley
desert center
chiriaco
parker
quartzsite
high winds
fire danger
heat stroke