Wildfire Season Begins

06/18/2012 07:56AM ● Published by Steve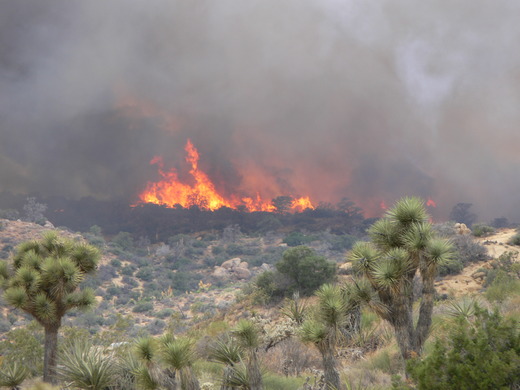 The summer wildfire season in the desert, mountains and pass areas of southern California, began this weekend.
As of this morning, the View fire, near Cabazon, is around 300 acres in size, and is 40 percent contained.  The fire, reported last night about 9:15 p.m., has 278 firefighters from 36 engine companies, 10 fire crews, with water tenders and bulldozers, and limited air support, working on containment.
The rate of spread has stopped and evacuations have been lifted, with full containment expected around 6 p.m. this evening.
No structures have been damaged, and no injuries have been reported.  The cause of the fire is under investigation.  Evacuations of residents near the Whitewater Canyon area (15 families) were implemented last night, but have been fully lifted as of Monday morning.
Meanwhile, the Highland Fire near Beaumont is at approximately 2,200 acres, and was 70 percent contained as of Sunday evening.  Full containment is expected by 6 p.m. Monday evening, according to CalFire.
There are 445 firefighters, with five air tankers, 24 fire engines, five helicopters, as well as water tenders and bulldozers, fighting the Highland Fire.  Multiple agencies are involved in fighting this fire.  No structures have been threatened, and no injuries reported.  The cause of the fire, first reported early on Saturday afternoon, is under investigation.
 Additional Fire News:
The Creek Fire in East Hemet, is now 100 percent contained at 76 acres.
The George Fire, near the George Bush Tree in Giant Sequoia National Monument, Sequoia National Forest, has burned more than 1,700 acres since it began June 1.
The fire is nearly 100 percent contained and trails have been re-opened in the area.
The Wohlford Fire in San Diego County near Valley Center, has been fully contained at only two acres, while the Little Fire that was burning south of Hesperia late last week, has been fully contained at 88 acres.
Learn how to prepare your home and protect your family from wildfires at www.readyforwildfire.org.
News
summer
desert
california
whitewater
wildfire
fire
cabazon
mountains
fire danger
pass
view
highland
beaumont
creek fire
hemet
george fire
giant sequoia
wohlford
valley center
hesperia
red flag warning