Traditional Ancestral Mourning Ceremony at Ocotillo Site near Devestating Wind Energy Project

06/18/2012 10:12AM ● Published by Steve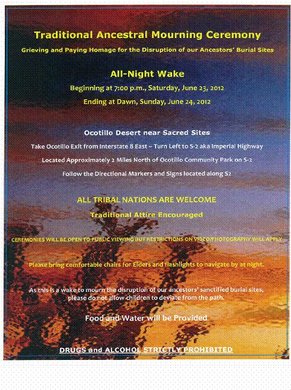 A traditional Native American ancestral mourning ceremony and all-night wake will be held from 7 p.m., Saturday, June 23, to dawn, Sunday, June 24, near the wind energy site near the site of the Ocotillo Express Wind Facility, a project placing 112 wind turbines standing 450 feet tall, on more than 10,000 acres of BLM land on the border of Anza-Borrego Desert State Park.
The ancestral mourning is for the wanton and seemingly illegal disruption of Native American ancestral burial sites caused by construction of this "green" energy project, one of several known to have destroyed or damaged Native American cultural resources and sacred sites during the Obama administration's push for large scale industrial solar and wind power development across the desert region
All tribal nations are welcome (traditional attire encouraged), and the ceremonies are open to public viewing with restrictions on video and photography (please be respectful and ask permission about photographing or taking video of participants).
Those attending are asked to bring comfortable chairs for the Elders, and flashlights.  Food and water will be provided, drugs and alcohol are strictly prohibited.
Parents are asked to closely monitor their children during this ceremony.
Directions:
Take the Ocotillo Exit from Insterstate 8 east.
Turn left to S-2, AKA Imperial Highway.
The site is located approximately two miles north of Ocotillo Community Park on S-2.
Follow the directional markers and signs located along S-2.
News
desert
anza-borrego
ocotillo
wind
green energy
state park
renewable energy
blm
doi
interior
obama
salazar
Native American
sacred sites
energy
tribes
kumeyaay
burial sites
burial grounds
ocotillo express
quechan
cocopah
nations
fort yuma
indian reservation
coyote mountain