Don't be late for this very important date!

06/20/2012 09:12AM ● Published by Steve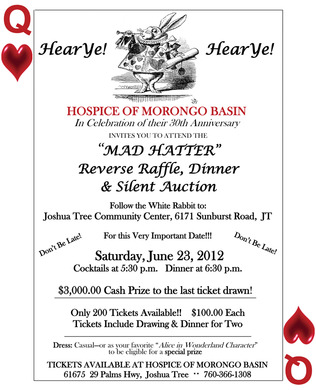 Jump down the rabbit hole for Hospice of Morongo Basin's "Mad Hatter" Reverse Raffle, Dinner & Silent Auction, Saturday, June 23!
You can follow the White Rabbit to this fundraiser for Hospice to the Joshua Tree Community Center, 6171 Sunburst Road in Joshua Tree, and don't be late for this very important date - it all starts with cocktails at 5:30 p.m., followed by dinner at 6:30 p.m.
The Mad Hatter event celebrates Hospice's 30th Anniversary of service to the hi-desert and we here at The Sun Runner have experienced the support Hospice provides and strongly encourage hi-desert residents to support this organization.
There are only 200 tickets available at $100 each.  Tickets include the prize drawing and dinner for two, with a $3,000 cash prize to the last ticket drawn Saturday evening.
Dress casual or as your favorite Alice in Wonderland character (to be eligible for a special prize).
Tickets are available at Hospice of Morongo Basin, 61675 29 Palms Highway, Joshua Tree, or call (760)366-1308.
News
dinner
joshua tree
morongo basin
hospice
mad hatter
raffle
community center
alice in wonderland
hospice of morongo basin