Gus Van Sant and the Palm Springs International ShortFest

06/25/2012 04:10PM ● Published by Steve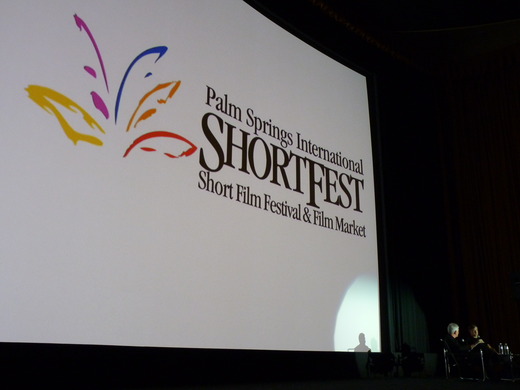 This year's Palm Springs International ShortFest raised the question of priorities.  While the festival, now in its 18th year, offered many great films, programs could be uneven, and why a few of the films were included remains a mystery.
Both the ShortFest and its big brother, the Palm Springs International Film Festival, certainly love and prioritize two things: star power, and quantity.  The ShortFest is much less Hollywood star-struck than the PSIFF in January, but both festivals like to be the biggest, if not always the "bestest."
While some programs (the films are put together in themed programs of five or more shorts), were almost perfect (Saturday night's "Twisted Tales" was an exceptional program), in other programs there were a few films that were either based on time-worn premises that have been "done to death," leaving me baffled as to how they made the roster.  The overall quality of films in the programs was very impressive, making the ones that weren't as good, stand out.
Gus Van Sant's appearance when he received the festival's Spirit of Short Film Award, was both delightful, and a little confusing.  Van Sant is best known for his work with feature films - Mala Noche, Drugstore Cowboy, My Own Private Idaho, Good Will Hunting, and Milk - not for his short films.
The selection of Van Sant's shorts shown were interesting - I especially liked seeing his work with Allen Ginsberg in Ballad of the Skeletons, and Thanksgiving Prayer with William S. Burroughs, but a short of his showing his cat chasing the reflected light from his guitar was pre-YouTube fluff.
Van Sant's short, The Discipline of D.E., based on a short story by Burroughs, was, however, nothing short of brilliant, and reminded me of what a versatile talent Van Sant is, and has been for many years, whether as writer, director, producer, and actor.  He is truly an exceptional talent, and it was nothing short of fun to listen to bits of his life story as a cross-media artist.
While Van Sant's unreleased version of his music video for the Red Hot Chili Peppers' song "Under the Bridge," was fair, though not outstanding, an impromptu video of Flea shot on the same set, was an interesting piece of pop music history.
Van Sant did a lot of music video work for major musical acts while trying to avoid commercial work.  When asked about that choice, Van Sant ruminated that upon reflection, it may not have been as good of a choice as he had once thought.
"Musicians were products that could talk," he noted, the implication that inanimate products just may have been easier to work with for him.
Van Sant got laughs by noting that when he was a kid, trying to get his sister to act in one of his films was harder than perhaps getting Nicole Kidman to act.  He was very accessible for the audience, which included a large number of filmmakers at the festival.  Their discussions about filmmaking, including that about "final cut," tended to be more interesting for the filmmakers than members of the general audience.
If we're going to give out awards here, we'd have to give a big award to the volunteers at the festival.  While we couldn't see them all, I think my favorite short was Ged Murray's short, "Small Time."  The film, from Ireland, spins the story of a pompous professor who steals the secret - and credit for - time travel, from one of his students, with hilarious results.
"A Good Thing," by Mark Tobey (USA), was an excellent desert film.  An elderly couple who run an extremely isolated gas station, are shook up by news reports of a killer on the loose driving a red car.  When a man driving a red car pulls into the gas station, the couple is faced with their fear.
The French short by Laurence Arcadias and Juliette Marchand, "Tempest in a Bedroom," managed to be both extremely funny and artistic, at the same time.
"All That Way for Love," by Henry Mason (UK), took us on a ride through Malawi, and into a couple's complex and dangerous relationship.
"Is This a Joke?" by Tom Edmunds (UK), was another favorite, as yes, poor Tom's life really is, in fact, a joke.  The dead chicken clinched it, and it became a festival favorite.
"Jesus Was a Commie," by Mathew Modine and Terence Ziegler, had promise, but fell victim to preaching.  "If only everyone believed whatever I want them to believe, then the world would be perfect."  Yes, well, the leaders of the world's major religions could probably also make the same point with about as much validity.
Modine may think that if we all just gave up our beliefs and created a new one, it would somehow fare far better than all its predecessors.  That's just silly, and ultimately led to "Jesus Was a Commie," being my biggest disappointment of the festival.
Culture
sun runner
joshua tree
desert
palm springs
international
burroughs
psiff
california
Festival
short film
short fest
camelot theatres
darryl macdonald
shortfest
gus van sant
twisted tales
allen ginsberg
william s. burroughs
william burroughs
ballad of the skeletons
thanksgiving prayer
discipline of de
red hot chili peppers
music video
flea
nicole kidman
ged murray
small time
ireland
good thing
mark tobey
laurence arcadias
juliette marchand
tempest in a bedroom
all that way for love
henry mason
malawi
is this a joke
tom edmunds
uk
jesus was a commie
mathew modine
terence ziegler
jesus
commie