Today is A Good Day To Die

06/27/2012 10:38AM ● Published by Steve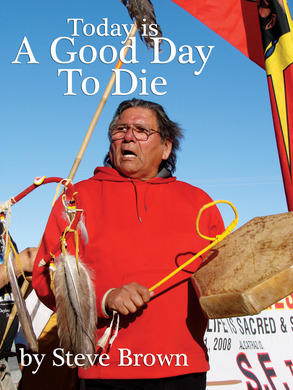 Gallery: A Good Day to Die [6 Images] Click any image to expand.
Conquered peoples historically have had difficult paths to walk to not only survive, but to endure and emerge with a sense of self, culture, and pride. And while the conquerors never seem to understand the plight of—or worth of—those they conquer, one thing remains universal: At some point in time, the conquerors will become the conquered in a process that has humbled many civilizations.
The Native Americans are a diverse and "conquered" people whose time to emerge to fully engage, to participate, to lead, and to share their cultural insights as the original Americans, may be long past, but in a time of increasing societal rootlessness and exploitation, their perspectives could be invaluable.
 History moves at its own pace, a pace that constantly changes, but while progress has been made to include everyone from African-Americans to the LGBT community, the original Americans are frequently left out, as if they belong only to the past.
Dennis Banks and the leaders of the American Indian Movement—A.I.M.—originally set out to achieve a modest step toward being included in the present tense of American society, a step where their humanity and citizenship as Americans would be respected. In Minnesota, police harassment was targeting Native Americans. Banks and this new and fairly informal A.I.M., a group as easily discounted by mainstream white society as today's Occupy movement has been by many, wanted to see their civil rights respected locally. It was a small goal, but one that grew and took on a life of its own as it moved from Minnesota to Custer, South Dakota, and eventually, to the stand-off at Wounded Knee and Washington, D.C.
An incredible, and important film for anyone who has an interest in contemporary American history, especially that history which has been shoved to the back, scoffed at, and frequently ignored, is A Good Day to Die, the documentary following the rise of Banks and A.I.M. made by a La Quinta couple, Lynn Salt, Choctaw, and David Mueller.
A Good Day to Die is one of the most important films I've seen about Native Americans and their struggles to reach their place in contemporary American society. It is a powerful and dramatic film, well researched, with extensive sources, and documents a chapter of American history that truly deserves closer examination. For woven into the story of Dennis Banks and the founding of A.I.M. are the personal stories of many Native Americans: boarding schools, forced assimilation and elimination of their native language, prejudice, discrimination, poverty, an unjust justice system, biased reporting, violence and intimidation, torn-apart families, and deep spiritual wounds.
Though A Good Day to Die is a documentary, it moves and feels like a well-crafted drama. And it is, partially because it is all too real, and partially because of the hard work and skill of Salt and Mueller. The two have gone the extra mile in the making of this film, with extensive interviews and previously unseen historical footage that damningly reveals the bias of the white society, media, and law enforcement during the 1960s and 70s through their own words and deeds.
As someone who covered the World Trade Organization (WTO) "riots" of 1999 and found that, by and large, the only real rioting that was going on was by the police, the 1973 "riot" in Custer, well covered in the film, seems oddly familiar.
Banks and A.I.M. leaders and supporters gathered in Custer to ask authorities to charge a white man, Daryld Schmidtz, with murder for stabbing an Indian, John Wesley Bad Heart Bull, to death. Schmidtz had only been charged with manslaughter, though there are accounts of him proclaiming, "I"m gonna kill an Indian tonight," and witnesses who were present when he, and possibly others, carried out his threat.
Banks, along with John Wesley's mother, Sarah Bad Heart Bull, and A.I.M. leaders Russell Means, Leonard Crow Dog, and Charlie Hall, got into an argument with the authorities which reportedly led to police choking Sarah. When some of the A.I.M. group came to her defense, a rather one-sided riot ensued.
The film integrates TV footage of this event and others, some of it never seen before, that reveals as much about the events covered by what was edited out prior to airing on TV news, as what was left in, and how it was presented by whites, for whites.
In a black and white piece of film from that time, Banks speaks slowly and purposefully about injustices against Native Americans. "This is where it started. This is where it's going to end. It's a good day to die."
Of course, whites took this in the most negative, hysteria-fueled manner possible—the savages were preparing for battle. In reality, Banks' statement meant it was a time to stand up for what you believe, no matter the cost. It wasn't a statement to induce violence, but to put an end to it.
Banks is a complex character and controversial today, outside, and inside, Native American society (many, many white American leaders would be more controversial if they received more honest scrutiny). But he is compelling, and through his story, we are introduced to the stories of many other Native Americans who offer first-hand accounts of injustices and the A.I.M. movement's attempts to claw a way to a place of societal—and self respect—for Indians.
"When you abuse people so long the only thing they can turn to is confrontational politics, they're going to do that, just as sure as this sun that comes up and goes down," Banks explains in the film. "I'd seen the news of the people protesting against the war and the civil rights marches of half a million people in Washington, D.C., but no one was speaking for Native people."
The story of how Banks' story made its way to film is probably worthy of a screenplay itself as Salt and Mueller's documentary, and the story of making it, proves, reality can be every bit as riveting as any work of fiction, and sometimes just as odd.
Approached about making a film about his life, Banks initially thought in terms of a feature film.
"He wanted Johnny Depp to play him," Salt said. "He thought people would pay attention."
When asked about making a documentary instead, Salt said Banks first rejected the idea. "He said, 'Nope. I'm not going to sit and talk about myself.' He can get really tough."
But then Banks had an epiphany, Salt said. "Some of my own kids don't know what I did," Banks reflected. A documentary was born.
Salt and Mueller, along with Banks, his daughter Tashina Banks, and other supporters, brought the film proposal before the Yocha Dehe Wintun Nation's Tribal Council.
 "I knew we had one shot," Mueller noted. "We flew Dennis out along with his daughter Tashina. We all went to pitch the project to the Tribal Council."
 Mueller had just finished co-directing, co-producing, and shooting (much of) Dalai Lama Renaissance, a film featuring the Dalai Lama and narrated by Harrison Ford. The film had been selected by 40 film festivals, won a dozen international awards, including two Grand Jury and three Audience awards, was released in 85 theaters across the U.S., throughout Germany, and distributed around the world.
The knowledge of not just how to make the film, but how to get it seen worldwide, proved to be of value to the Tribal Council. Funding was approved.
A Good Day to Die was released in 2010. The film won seven Best Documentary awards, and a great amount of praise.
"A wonderful, sorrowful, compelling film," said Ken Burns, no stranger to documentary filmmaking. "From classrooms of fear and forced assimilation, to the climactic stand-off at Wounded Knee, it is an essential chapter in the all-too-infrequently-told tale of those who can truly call this continent home."
The film takes viewers on a journey from boarding schools for Indians where their native languages and culture were often erased (Banks often ran away), a form of cruel cultural genocide that has had a devestating effect on indigenous peoples around the world, to Governor Jerry Brown providing asylum for Banks when he was being sought for prosecution.
 "We're trying to get Governor Brown to see it," Salt said of the film (an interview with Brown is included in the film). "He supported Dennis Banks and probably saved his life. He has a place in Indian hearts."
 A Good Day to Die is American history at its best. It is history that took place within recent memory about a people marginalized for centuries within their own homeland. This is history, but with the feel of a dream. It seems unfamiliar, yet there is a nagging feeling inside that we should know this place, these times, these people.
And the film has resonated strongly with both Native Americans and others around the world.
 "When we first showed the film to the chairman (of the Yocha Dehe Wintun Nation), his daughter came over," Salt recounted. "A medical student, she said this was the only time she had ever heard anything about Indians since she was in the fourth grade.
"When we went to Yale, they (students) wanted to touch him (Banks)," she added. "I'm finding the 20-something generation so pure. They haven't heard about it (contemporary Native American history), so this is educating them."
 "It's hard to believe in genocide," Mueller interjected. "California was one of the worst places for Native Americans. There is a lot of dark history."
"History is so much worse than we can imagine," Salt said, noting that Indians were treated as "varmints" until 1890, and some would strip the skin off of Indians they killed to make boots. Ah, who exactly is the "savage" is rarely as clear as some think when history is honestly and scrupulously examined.
Salt and Mueller don't dwell on the dark side of history though. They believe in the power of knowledge to help heal, even the deep wounds of centuries of neglect, abuse, and violence. Perhaps even ignorance, the kind Banks and so many others experienced growing up and throughout their lives, can be lessened by acknowledging and admitting the dark history and making a conscious decision to shed light on it so the darkness will no longer continue. Perhaps.
Salt recounted the story of Banks' experiences in school during our talk. She noted that when Banks had run away enough times from boarding school, he was allowed to go to a regular school. He sat behind white kids, one of whom told him he was just like the "niggers.""Why don't you go back to your own country?," the brilliant white student asked Banks. Indeed. Why not?
Banks walked out of the classroom, and when asked where he was going, Banks found his destination impossible to describe. Maybe he just couldn't get to his destination from where he was at the time. Maybe no one could.
Mueller noted today most Americans still think of Indians as something from the 1800s, with little knowledge of 20th century (or 21st century, for that matter) Native American history. As Katherine Siva Saubel once told me, "We are still here."
Continued ignorance of Native American history and the stories of the original Americans is really no longer acceptable, and films like A Good Day to Die provide the means to help illuminate the dark and turn it toward the light.
A Good Day to Die is currently available for educational DVD purchases, and on DVD at select Native American events, with a broader release on DVD planned for sometime in the future. It was recently featured at the Agua Caliente Cultural Museum's Festival of Native American Film & Culture (The Sun Runner is a media sponsor for the festival), and we've made inquiries about possible additional screenings of this film. Check www.agooddayto diefilm.com for more information.
The Filmmakers behind A Good Day to Die
The superb craftmanship behind the making of A Good Day to Die is no accident. La Quinta couple, David Mueller and Lynn Salt, bring an impressive amount of experience to their filmmaking.
David has worked as a writer, director, and producer for more than two decades. He was admitted to the Directors Guild of America in 1996 for his work on Universal Pictures' New York Undercover (Fox), and The Wright Verdicts (CBS). He has written eight screenplays, seven which were written with Lynn, and has directed and produced 13 documentaries as well as national television commercials.
Lynn is a produced screenwriter and producer-director who has worked in the motion picture industry for more than 25 years. She has written more than 30 screenplays, several of which were optioned by A-list Hollywood producers.
David co-produced, and shot much of, Dalai Lama Renaissance, featuring the Dalai Lama and narrated by Harrison Ford. The film was selected by 40 film festivals and won 12 international awards. He directed segments for Dateline NBC in India, including the acclaimed one-hour special, Tibetan Medicine: A Cure for Cancer, and Living Off the Land, on cowboys in Australia, for the National Museum of Australia. He has directed numerous short-form documentaries for California television, as well as Peace Pilgrim, featuring the Dalai Lama, Maya Angelou, and Dennis Weaver.
David worked as director of corporate relations for the Autry National Center, where he raised more than two million dollars in support of the Autry's Southwest Museum, and also worked as a producer for Akamai Technologies, where he developed, produced, and directed online shows and events for Fortune 500 companies. He co-founded World Service, with funding from the Rockefeller Foundation, to create an eco-tourism and rural development training center in Costa Rica.
Lynn has written show scripts for the First Americans in the Arts Award Show, has a screenplay optioned by producer Fred Roos, being considered by producers in the UK, and is also a member of the DGA.The two have just released a new feature film, Beautiful Wave, co-written and co-produced together, starring Aimee Teegarden, Lance Henriksen, Pat Richardson, and Helen Slater.
A Good Day to Die Trailer
Culture
Magazine
sun runner
joshua tree
steve brown
film
indians
la quinta
coachella valley
a good day to die
dennis banks
david mueller
aim
film festivals
american indian movement
native americans
minnesota
custer
south dakota
wounded knee
washington dc
lynn salt
choctaw
daryld Schmidtz
john wesley bad heart bull
john wesley
sarah bad heart bull
russell means
leonard crow dog
charlie hall
johnny depp
yocha dehe wintun
tribal council
tashina banks
dalai lama
harrison ford
ken burns
documentary
jerry brown
dga
directors guild of america
peace pilgrim
dennis weaver
maya angelou
autry national center
autry southwest museum
world service
costa rica
first americans
fred roos
beautiful wave
aimee teegarden
lance henriksen
pat richardson
helen slater
filmmakers