Salvation Mountain's Creator, Leonard Knight, Faces Amputation

07/01/2012 10:11AM ● Published by Steve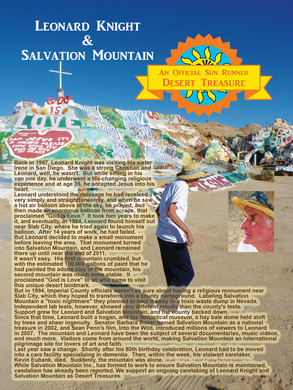 Leonard Knight at Salvation Mountain
Leonard Knight, the man who created Salvation Mountain, near Slab City and Niland on the eastern side of the Salton Sea, is facing the amputation of his right leg above the knee. 
According to a post this morning on the Salvation Mountain Facebook page, Leonard has been in extreme pain the past couple of weeks and the decision to amputate his leg was made with doctors and Leonard's next of kin.
The Sun Runner recently declared Leonard a cultural treasure of the California desert for his contributions to the desert's folk art and spiritual culture. His Salvation Mountain with its simple, yet beautiful message that "God is Love," has become a place for artistic and spiritual pilgrimage for people from around the world.
We with Leonard all the best, relief from pain, and quick healing.  Our prayers and thoughts are with him and the wonderful people who work to preserve and continue Leonard's magnificent work at Salvation Mountain.
Culture
art
sun runner
salton sea
leonard knight
salvation mountain
niland
god is love
slab city
desert treasure
leonard
folk art
desert culture
desert art