Stater Bros. Screws Up

07/01/2012 01:58PM ● Published by Steve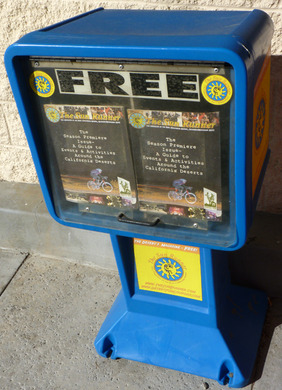 Don't look for The Sun Runner Magazine outside your local Stater Bros. store any more.  Stater Bros. corporate management has once again shown their scorn for the communities served by publications such as The Sun Runner and others, by getting rid of our distribution boxes in front of their stores.
Yes, you used to be able to find The Sun Runner outside of the new and old Yucca Valley Stater Bros. stores, as well as the Twentynine Palms Stater Bros. store, but for the second time in several years, corporate management has come through and told store management to throw away boxes that cost us, and other publications, hundreds of dollars.
A couple of years ago, two Stater Bros. stores threw away our distribution boxes, without even a courtesy call for us to pick them up.  When it was brought to their attention, upper corporate management of this multi-billion dollar grocery chain was somewhat apologetic, and we were invited to place new boxes or racks at the locations again.
Now, despite that invitation, our boxes have once again been thrown away with no thought that we're local customers, that we provide a valuable service to our community, and that we have every right to be there alongside other publications that charge a fee for their newspaper.
This action, taken again by Stater Bros. corporate management despite our earlier discussions about a similar incident, and their clear invitation for us to re-install expensive distribution boxes and racks at the locations that had previously tossed our boxes in the garbage, is misguided and disdainful of the local communities they purport to serve.  Once again, no calls were made to warn us they were taking this action.  Once again, no thought went into their decision as to whether they were doing something against the desires of their own customers.  We went through hundreds and hundreds of copies of each issue of the magazine at these locations, and we had to frequently re-stock the boxes and racks, so clearly their customers were picking up the magazine on their shopping trips.
As Stater Bros. corporate management cannot be trusted to keep their word, and as The Sun Runner is an independent, locally-owned company, we cannot afford to continue to replace boxes this arrogant and out of touch multi-billion dollar company mindlessly throws away. 
 Luckily, shoppers going to the new Yucca Valley Stater Bros. store can find The Sun Runner outside of WalMart, shoppers at the old Yucca Valley store can find The Sun Runner in the shopping center, just farther to the left of Stater Bros., and Yucca Valley shoppers are encouraged to look for The Sun Runner at Walgreens, Von's, Food for Less, Starbucks, Ma Rouge, Star Market, and any of the other hundreds of hi-desert locations where the magazine is distributed.
Coachella Valley readers can find The Sun Runner at hundreds of locations including all Ralph's stores, Camelot Theatres, Billy Reed's, Crystal Fantasy, Barnes & Noble, and other shops, casinos, hotels, and visitor centers.
Stater Bros.' repeated disregard for independent publications and locally owned businesses that support their communities has led to their loss of one long-term customer: me.  For 12.5 years, I have shopped weekly in the new Stater Bros. store in Yucca Valley. No longer. Today, after finding our box vanished, I did all of our shopping in Vons, where we also go through hundreds of copies of each issue of the magazine.
Corporate management at Stater Bros. reportedly told store managers to get rid of our boxes because they were "unsightly." Well, treating your local customers and businesses in the communities where your stores are located with such disrespect and arrogance is also unsightly.  I consider Stater Bros. actions to be theft, and until they make good on their bad decisions, we will promote The Sun Runner's presence at their competitor's locations, and I, for one, will take my business elsewhere.  I believe actions such as their decisions to throw away our distribution boxes is a clear sign of their attitude toward our communities.
- Steve Brown, Publisher
In Print
Yucca Valley
sun runner
twentynine palms
camelot theatres
distribution
stater brothers
stater bros
stater
vons
ralphs
walgreens
star market
ma rouge
billy reeds
crystal fantasy
barnes & noble
walmart
san bernardino