Summer Getaway - Lake Arrowhead Chalets in Lake Arrowhead

07/01/2012 02:33AM ● Published by Steve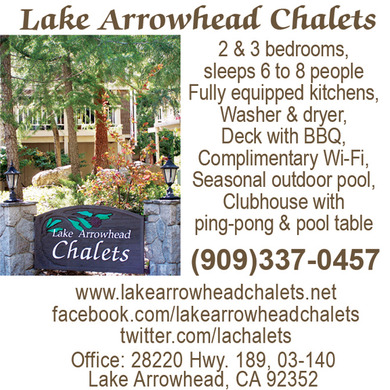 Gallery: Lake Arrowhead Chalets [1 Image] Click any image to expand.
Nestled among tall pines, Lake Arrowhead Chalets is a perfect mountain getaway.  The breathtaking scenery of the San Bernardino National Forest and picturesque Lake Arrowhead village, make this one of the most lovely, enchanting areas in California.
In summer, enjoy boating, fishing, hiking, biking, or just relax in the cool, refreshing mountain air.  In winter, ski, enjoy shopping, dining, and entertainment in the village, or just sit by the fire.
Lake Arrowhead Chalets offers full service kitchens, wood-burning fireplaces, propane barbecues, and much more.  There's a pool, game room, and sauna, and laundry facilities, making this a great base for extended stays in the mountains at any time of year!  And with two and three bedroom units, Lake Arrowhead Chalets is great for groups and get-togethers!
For more information: www.lakearrowheadchalets.net or call (909)337-0457.
Travel
fish
mountains
hike
inn
lodging
lake arrowhead
chalets
arrowhead
resort
ski
boat
san bernardino national forest
willage