Summer Getaways - Historic Hillside Ranch near Lake Isabella & Kernville

07/01/2012 03:13AM ● Published by Steve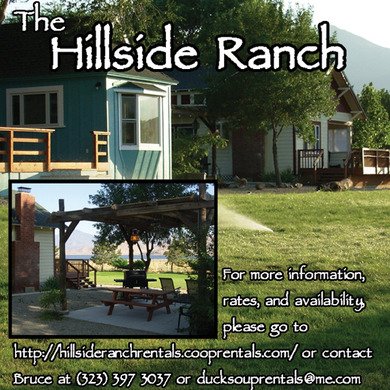 Looking for a great mountain and lake getaway?  Look no farther than the Historic Hillside Ranch at the east end of Lake Isabella, just off Highway 178, and only 20 minutes from Kernville.
With three ranch homes on 40 acres, the Historic Hillside Ranch isn't your typical lodging.  The Ranch provides the feeling of remoteness, but it is conveniently located near amenities and all the mountain, lake, and river activities associated with Kernville and Lake Isabella.
Enjoy a sanctuary that offers you peace and quiet, with large grassy open spaces and hundreds of trees for shade and privacy.  Let the kids play on the grass, and roast marshmallows over the open fire pit at night.
Stay in the Blue House, Red House, or Yellow House,homes moved up from the historic town of Whiskey Flat (now Kernville), or rent all three for a family get-together.  With full kitchens and all the amenities of home, the Ranch is a great mountain retreat all year long. Enjoy boating, horseback riding, fishing, hunting, hiking, mountain biking, off-roading, golf, rodeos, festivals, whitewater rafting, water skiing, water tubing, and kayaking in the summer and fall, wildflowers in the spring, and snowboarding and skiing during the winter and early spring.
For information visit http://hillsideranchrentals.cooprentals.com/home.php or e-mail bruce@hillsideranchrentals.com.
Travel
whitewater
fish
Golf
mountains
kayak
hike
horseback riding
mountain
lodging
getaway
ski
boat
historic hillside ranch
hillside ranch
hillside
ranch
lake isabella
kernville
highway 178
hwy 178
178
whiskey flat
kern river
kern river valley
rafting
wildflowers
festivals
rodeo
snowboarding