Summer Getaway - Bluebird Cottage Inn in Idyllwild

07/02/2012 01:44AM ● Published by Steve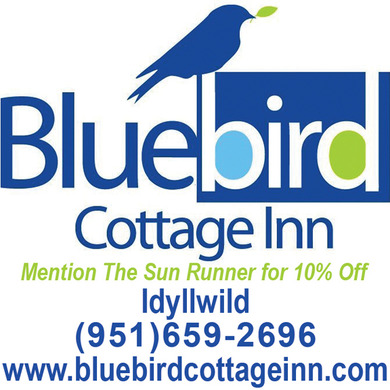 Gallery: Bluebird Cottage Inn Idyllwild [1 Image] Click any image to expand.
Come up to the mountains around Idyllwild and enjoy a vacation in the pines!  The Bluebird Cottage Inn offers cozy economical rooms, and a comfortable two bedroom cabin where visitors can get away from it all.
Located on Highway 243, less than a mile south of downtown Idyllwild, the Bluebird Cottage Inn is a great place for a romantic getaway, with kitchens, fireplaces (wood or electric), free wi-fi, and even double-sized Jacuzzi bathtubs.
The Bluebird Cottage Inn was built in 1957, as the Bluebird Hill Cottage. To this day, the Bluebird maintains its quiet location among the fresh green pines and cedars. It affords a refreshing view of great majestic beauty, and is far enough from the village to have its own quiet solitude.
Whether you're coming up to Idyllwild for Jazz in the Pines, or just to get away from it all, an Idyllwild vacation is a perfect getaway, and the Bluebird is a great place to stay.
For more information: http://bluebirdcottageinn.com
For reservations, please call: (951)659-2696 or (866)977-2696.  Mention The Sun Runner for 10% off!
For information on Jazz in the Pines: www.idyllwildjazz.com
Travel
jazz
idyllwild
bluebird
bluebird cottage
bluebird cottage inn
cabins
hotel
inn
mountain
pines
jazz festival