Summer Getaway - Edelweiss Lodge in Idyllwild

07/02/2012 02:00AM ● Published by Steve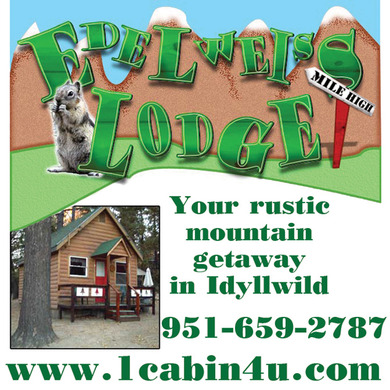 Gallery: Edelweiss Lodge [1 Image] Click any image to expand.
Looking for a romantic rustic cabin amid the pines for a getaway?  Come up to Idyllwild and the Edelweiss Lodge.
Edelweiss Lodge has been family owned and operated since 1982.  But it's history goes back to the 1920s when it began as a campground along the old Banning to Idyllwild stagecoach road.  The innkeepers can point out the old stagecoach stop across the street.
The "hill" is alive with a history rich in the stories of Indians, cowboys, loggers, healers, movie stars, artists, and musicians, all in a town without one single stoplight!
Edelweiss Lodge consists of 11 log cabins on three acres of heavily wooded property.  Each cabin includes an equipped kitchen and a wood-burning fireplace, and the lodge offers mountain bikes for loan, as well as fishing rods and tackle.  Each cabin also has a front porch or patio area where you can sit back and enjoy the sights, scents, and sounds of the forest.
Come up to Edelweiss Lodge where you can stay in the Secret Shanty, Carefree Cottage, Mellow Manor, Sugar Shack, and their other rustic retreats.
For information visit http://1cabin4u.com or call (951)659-2787.
For information on Jazz in the Pines: www.idyllwildjazz.com
Travel
jazz
Festival
idyllwild
cabins
pines
edelweiss lodge
edelweiss
rustic
romantic