Summer Getaway - The Lodge at Pine Cove B&B in Idyllwild

07/02/2012 02:14AM ● Published by Steve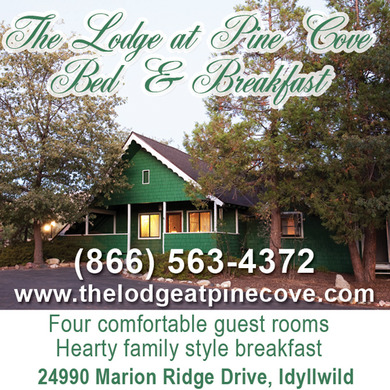 Gallery: Pine Cove [1 Image] Click any image to expand.
Looking for a unique mountain getaway you'll never forget?  Look no further than The Lodge at Pine Cove Bed & Breakfast in Idyllwild!
The Lodge at Pine Cove is a four room bed & breakfast located in the San Jacinto mountains just three miles north of Idyllwild.  Here, you'll relax in a century-old lodge with parquet wood floor, vaulted ceiling, fieldstone fireplace, and spectacular views of Lily Rock and the San Jacinto Mountains.
Sit on one of the many quiet decks and patios where you can listen to the mountain breeze whisper through the pines and watch the squirrels, woodpeckers, and blue jays among the pines and oaks.
The Lodge at Pine Cove is the perfect place for a romantic getaway or a group get-together.  Make sure to check out there Romantic Getaway Package: http://thelodgeatpinecove.com/idyllwild_inn_specials.html, and don't forget their family style breakfast each morning with Belgian waffles, double-cinnamon French toast, or a hearty breakfast quiche!
The Lodge provides free wi-fi, comfy robes and amenities, and if you're looking for a very special long weekend, make sure to ask for the Lily Room with its in-room Jacuzzi tub for two and its own small deck!
For more information: http://thelodgeatpinecove.com/index.html or call (866)563-4372.
For Jazz in the Pines information: www.idyllwildjazz.com
Travel
mountains
view
idyllwild
inn
mountain
romantic
lodge
pine cove
lodge at pine cove
bed and breakfast
b and b
pine
cove
lodging
getaway
san jacinto mountains
lily room
lily rock