Hazardous Weather Outlook for Parts of Desert Region

07/11/2012 04:42PM ● Published by Steve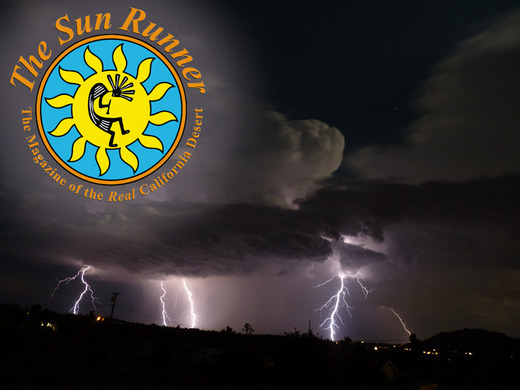 No more dry heat in July!  Thunderstorm season has arrived here in the desert, along with chances of flash floods and debilitating heat and humidity.
The National Weather Service has issued a Hazardous Weather Outlook today, Wednesday, July 11, through next Tuesday. 
For the rest of today (Wednesday):
Well above normal temperatures with the Excessive Heat Warning continuing until 10 p.m. at elevations below 4,000 feet.  A slight chance (looking more than slight from where we are) of thunderstorms mostly along the Colorado River region, but spreading into eastern San Bernardino County tonight.
Thursday through Tuesday:
Moonsoonal moisture increasing through Friday, sticking around through the weekend.  Look for a greater threat of flash flooding, mostly in the Colorado River region.  Drier air is expected to return to the oven late Sunday through Tuesday.
High temperatures today are expected to reach 115-120 along the Colorado River, up to 116 in Barstow, and a comfy 125 in Badwater, Death Valley, where preparations continue for next Monday's start of the AdventureCORPS Badwater Ultramarathon, one of the world's toughest foot races (135 miles through Death Valley National Park up the slopes of Mt Whitney).
The National Weather Service says the weather is resulting in "very oppressive conditions."  We usually think of it as "August."  Heat stroke is a serious consideration, however, and we encourage everyone to refrain from strenuous outdoor activities, and instead to kick it with a cool one and watch the light shows in the evening. 
Keep an eye out for wildfires as well, as lightning strikes can play havoc with the desert, and exercise caution driving through washes or gullies.  City folk - don't camp in the nice soft sand on the bottom of the wash unless you want to wind up taking in-tent swimming lessons.  We're serious.  Stay out of the washes, and if the water looks like it could be too deep to cross, don't chance it.  Search and Rescue doesn't like looking for your bodies three to four miles downstream.
Drink plenty of water, and take it easy.  If you or someone you know feels heat stroke coming on, call 911, get them in the shade, and cool them off.  We love the desert, but this stuff is serious.
Desert locals - please keep an eye on your neighbors, especially seniors.  Cooling centers are open across the desert, contact your local municipality for their locations and hours.
News
Yucca Valley
joshua tree
death valley
mojave
pioneertown
29 palms
twentynine palms
Weather
preserve
colorado river
san bernardino county
wildfire
landers
barstow
heat
heat stroke
heat warning
cooling centers
thunderstorm
flash flood
flashflood
storm
hazardous weather
joshua tree national park
flood
lightning
wild fire
heat exhaustion