Catch Desert Cultural Treasure, Author Robin Maxwell, at Comic-con This Weekend!

07/13/2012 11:03AM ● Published by Steve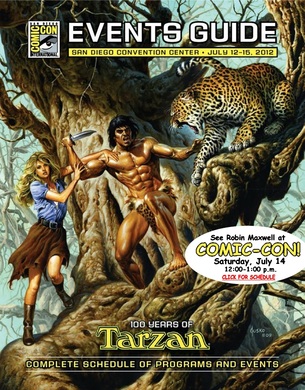 Gallery: JANE: The Woman Who Loved Tarzan [1 Image] Click any image to expand.
This Saturday, Comic-con attendees will be treated to a special panel discussion featuring one of the desert's cultural treasures, author Robin Maxwell, as she and other authors and illustrators discuss The Naked Truth About Tarzan and Jane: The First 100 Years of Spectacular Tarzan Imagery, and One of Literature's Best-Loved Couples as They Enter Their Second Century.
The Naked Truth runs from noon to 1 p.m. at Room 25ABC, and features bestselling novelist Robin Maxwell (Jane: The Woman Who Loved Tarzan) and author Scott Tracy Griffin (Tarzan: The Centennial Celebration) gather with illustrator Joe Jusko (The Art of Joe Jusko) to discuss these iconic literary characters.
Comic-con attendees can join them for a presentation and Q&A session hosted by Jim Sullos, president of Edgar Rice Burroughs, Incorporated, the official licensing entity for Tarzan and John Carter of Mars.
Jane, Maxwell's latest book, will be released in September and will be celebrated in style at The Sun Runner's annual Desert Writers Celebration, Saturday, September 29, at the 29 Palms Inn, as part of the international literary event, 100 Thousand Poets for Change.
Maxwell's booksigning earlier this week at Comic-con sold out in 20 minutes.  For more on Maxwell's writing and Tarzan Centennial exploits, visit http://robinmaxwell.com.
Culture
joshua tree
robin maxwell
pioneertown
desert writers
desert treasure
jane
tarzan
twentynine palms
palms inn
san diego
palms
naked truth
scott tracy griffin
joe jusko
edgar rice burroughs
erb
jim sullos
john carter
desert writers celebration
pipes canyon
thousand poets for change
comiccon