The AdventureCORPS Desert Voices Contest - Write for Us!

07/15/2012 11:00PM ● Published by Steve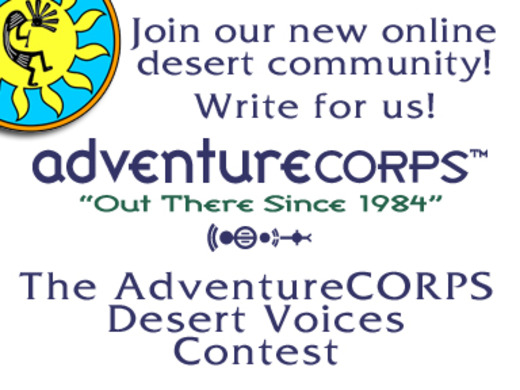 Gallery: AdventureCORPS Desert Voices Contest [2 Images] Click any image to expand.
Living in the desert, we all have our sources for information and news. The artist who gets the desert light just right.  The friend who's always up on the best eats in town. The one who knows the real offbeat places to check out.  The naturalist in touch with native plants and their uses.  The music junky who knows every singer/songwriter and band in town.  The spiritual seeker who is in touch with the beauty and poetry of the desert.  And the historian who remembers the story of that old adobe down the dirt road.
Maybe you've been known to field a few calls on a certain topic or area in your day? Well, if you're a local expert, writer, blogger, or just a passionate person with some worthwhile things to share, we want to hear from you!
The Sun Runner has teamed up with the desert's leading extreme sports event producer - AdventureCORPS - to bring you the AdventureCORPS Desert Voices Contest.  From July 16, when the AdventureCORPS Badwater Ultramarathon gets underway in Death Valley National Park, to the end of September, we're seeking out passionate desert voices to contribute to our growing online desert community here at TheSunRunner.com.
It's not that you need another website to visit, it's that we all need a better, more relevant, place to gather to enjoy the desert's shared experiences and values. That's why we're looking for fresh "Desert Voices" to become our new featured contributors online and help us make TheSunRunner.com the one-stop spot for getting a feel for what goes on all across the California desert region.
We're looking for enthusiastic individuals from across the California deserts to share their passions, hobbies and interests with the wider community. You'll be able to combine a relevant local perspective with timely topics of interest on your very own soapbox. Writing for The Sun Runner online means you can experience everything great about blogging without having to build your own brand or worry about driving traffic to your site. As a Desert Voice, we'll handle all of the technology, the SEO (that's Search Engine Optimization i.e. how to show up higher in Google search ratings), and promotion to ensure that your words are read by our community. We hope that, in time, you'll become as much a conversation starter and local guide as you are a writer.
Not a seasoned writer? No problem. We welcome interesting personalities over professionals, though we do appreciate a slick turn of phrase and aptly applied alliteration here and there.  Keep in mind you don't have to be a professional writer.  You can also post your own videos and relevant videos from YouTube, along with podcasts, photos, artwork, and more.  We want the news, the sights, the sounds, and the culture of the California deserts to fill this site!
Don't think this is for you? That's OK, because we'd really appreciate it if you can still help us find the best folks for the contest and participate in the conversation.  Maybe you know just the person we're looking for. Point them our way using our social sharing options online. And there's always the old fashioned way – tell your nominees  in person!
It's easy to enter:
Post something about yourself and how you see yourself contributing to TheSunRunner.com on this contest page. 
Share your post with your community and give friends and family the chance to vote for you as a new Desert Voice.
Once you've entered, remember to share the contest page with your friends and family via social media, e-mail, press releases - every avenue you can think of to get the news out. They can vote for you and all of their favorite personalities right on our site, now through September 30, 2012.
 The most popular entrants (and those we just plain like) will be invited to post as a Desert Voice. And we want to hear from Desert Voices from all across the desert!  We can't wait to hear from you!
We'll not only set up winners of the AdventureCORPS Desert Voices Contest with their own blog on TheSunRunner.com, but we'll also pull some of the highlights from the Desert Voices blogs online for use in the print version of the magazine that reaches more than a quarter million readers each year!
Becoming a Sun Runner Desert Voices blogger can take your writing and blogging to a whole new level online and in print!  With it, you can help create an online desert community where we can all meet and learn about each other's area, our creative culture, our history, our natural beauty, where to go and what to see, and much more!
So, what are you waiting for?  There are going to be some great prizes for our winners along the way (that's right - we'll be giving some prizes out before the end of the contest, so check this page often!), and everyone who joins the contest is invited to our big Desert Writers Celebration, Saturday, September 29 at the 29 Palms Inn!  We want to meet you in person, and introduce you to our desert community of writers, poets, and creative spirits!  Come join us!  Post your entry below, and start sharing and gathering votes!
Oh, and please include your name in your post, where you're from, and what you'd like to blog about (we'll leave that up to you - we don't like to restrict our contributors).  Thanks!
Culture
,
Travel
,
In Print
,
Food+Drink
,
News
Music
Arts
Outdoors
contest
Community
dining
local
history
Theatre
Yucca Valley
joshua tree
death valley
mojave
desert
pioneertown
ridgecrest
palm springs
borrego springs
salton sea
randsburg
anzaborrego
environment
ocotillo
niland
slab city
write
blog
voice
felicity
twentynine palms
blythe
Native American
colorado river
china lake
film
inyokern
coachella valley
el centro
apple valley
california city
morongo
landers
cabazon
victorville
barstow
needles
palms
imperial
brawley
desert center
beaumont
Blogger
blogging
desert voices
adventurecorps
adventurecorps desert voices
writer
contributor
nightlife
hiking
rock climbing
backpacking
horseback riding
social media
issues
native plants
wonder valley
lucerne valley
indio
calexico
holtville
boron
tehachapi
lancaster
palmdale
rosamond
shoshone
tecopa
lone pine
banning
thermal
mecca
calipatria