Emken's Senate Supporter Steals Sun Runner Story and Misrepresents it vs. Feinstein

07/16/2012 01:44PM ● Published by Steve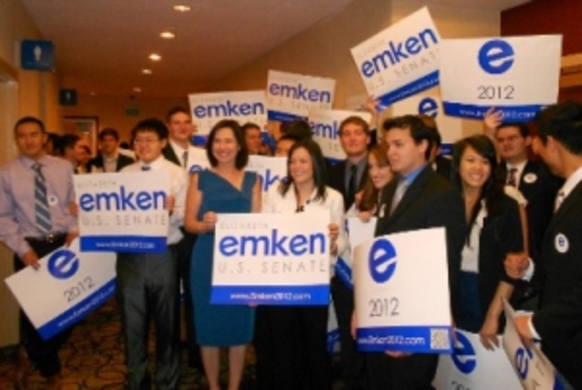 A Sun Runner story has been used and misrepresented, apparently by a blogger with ties to the Elizabeth Emken campaign.
Our story, Cadiz Water Grab Meets With Significant Opposition (http://thesunrunner.com/2012/07/03/watch-the-latest-cadiz-water-grab-propaganda-video) was used by a blogger, apparently Jim Campbell, who attached his own headlines and links that lead to a different story that supports his position instead of our story.
"Once again Feinstein shows her colors favors [sic] environmentalists over people in a sham," is the headline attached to our story on an unofficial Elizabeth Emken senate campaign website (http://elizabethemkenussenate2012.wordpress.com/2012/07/04/once-again-feinstein-shows-her-colors-favors-environmentalists-over-people-in-a-sham/).  Never mind the poor grammar, the headline is misleading and erroneous, unless, of course, there are no people in the California desert.  The post on Emken's site then includes part of our story, with a link that says "See entire article here," but leads instead to the story that supports the blogger's position.
If the blogger is to be believed, the National Parks Conservation Association, the lead tag that led us to the posting, is some kind of radical environmental organization instead of a rather moderate organization that supports the integrity and viability of our nation's national parks.  One must wonder if, therefore, readers should assume that Emken does not support our national parks?  (This could well be a case of a campaign supporter creating trouble for the candidate without her knowledge or endorsement.)
In another post on the poster's own blog (http://dancingczars.wordpress.com/2012/07/05/once-again-feinstein-shows-her-colors-favors-environmentalists-over-people-in-a-scam/), "Once again Feinstein shows her colors favors [sic] environmentals over people in a scam," the blogger makes the assertion in his introduction, "This is far more than about water it is deeply rooted in shutting down natural gas production is this develop. Where is Dianne Feinstein? On the wrong side of the issue as usual. It's time for her to be defeated in November by a far more qualified Elizabeth Emken."
While we're not sure about the actual meaning of the blogger's first sentence, we are relatively certain that the senator's opposition to the Cadiz water mining project has little to do with natural gas production.
Once again, a link to see the entire article leads to an entirely different article.
If Emken's position is to steal copywritten work and twist it for misuse in her campaign, then we at The Sun Runner Magazine take issue with her ethical qualifications as a candidate for senate.  If this is the result of a supportive blogger run amuck, then we would appreciate eitiher having the story removed from Emken's campaign website, or have it posted under its own headline with a link to the actual story.
Fair use of a story is one thing.  Unfair misuse of a story is quite another.  We have no objection to candidates vigorously discussing the merits of issues and positions they, or their opponent, take.  But we do object to our stories being misrepresented and used to push an assertion we did not make, and one that is not represented by the editorial content of our story.
- Steve Brown
News
Magazine
sun runner
joshua tree
mojave
steve brown
feinstein
california
npca
campaign
cadiz
water grab
national parks conservation association
dianne feinstein
senator feinstein
elizabeth emken
emken
jim campbell
senate
environmentalists
senator dianne feinstein
republican
democrat
election