Desert Destinations: The 29 Palms Inn in Twentynine Palms

07/18/2012 10:06AM ● Published by Steve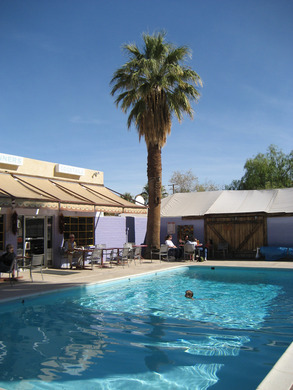 Gallery: 29 Palms Inn [4 Images] Click any image to expand.
Come explore one of The Sun Runner's favorite Desert Destinations - the historic 29 Palms Inn on the Oasis of Mara!
The Inn has been operated by the same family since 1928, right on the only privately-owned oasis in the hi-desert.  Located in Twentynine Palms on Route 62 (the Twentynine Palms Highway), the Inn is one of our favorite places to meet for lunch or dinner, or to just get away from it all and do nothing - and do it well.
Located near the headquarters of Joshua Tree National Park and the Oasis Visitors Center, on the eastern end of the Oasis of Mara, the 29 Palms Inn offers historic adobe cabins from the 1930s for visitors that range from visitors to the national park and nearby Marine base, to Hollywood stars looking for an escape from Los Angeles (the Inn asks visitors to give these folks their privacy - just enjoy the experience of dining near international award-winning musicians and movie stars).
Enjoy fine dining poolside on delicious entrees, with much of the produce grown right in the Inn's oasis garden.  Mix with the locals at the full bar, and enjoy nightly live music.  Sunday brunch is also very popular here.
Sunday Brunch runs from 9 a.m. to 2 p.m., with lunch daily from 11 a.m. to 2 p.m., dinner daily from 5 to 9 p.m. on weekdays, and until 9:30 p.m. on weekends.  Plan your visit to Joshua Tree National Park - order a picnic lunch the night before and dine al fresco among the fantastic rock formations and Joshua tree forests just minutes away!
The Inn is also a popular site for events, from The Sun Runner's Desert Writers Celebration, to weddings, reunions, and more.  On-site catering is available.  Enrich your stay at the Inn with an art-making session at the 29 Palms Creative Center, or take one of the wide selection of courses available through the Desert Institute of the Joshua Tree National Park Association.  Check The Sun Runner's events calendar for more suggestions for things to do during your visit!
Don't come for dinner though, without taking a sunset stroll around the Oasis of Mara and the Inn's gardens.  Sit by the pond, shaded by the native California fan palms, and think of the history that this life-giving oasis has seen, dating back hundreds, if not thousands of years, with human occupation by Native Americans, the arrival of white prospectors and miners, traders, homesteaders, World War I veterans, Marines, artists, writers, and musicians.
The 29 Palms Inn is one of The Sun Runner's favorite Desert Destinations for dining, lodging, and relaxing in true desert fashion.  An easy drive from Los Angeles, the Coachella Valley, and other areas, we highly recommend the 29 Palms Inn.
For more information: www.29palmsinn.com.
More Twentynine Palms links:
Visit 29 Palms: www.visit29.org
Twentynine Palms Creative Center: www.29palmscreativecenter.com
Joshua Tree National Park: http://www.nps.gov/jotr/index.htm
Joshua Tree National Park Association and the Desert Institute: www.joshuatree.org
Travel
dining
restaurant
dinner
sun runner
joshua tree
desert
national park
29 palms inn
paul smith
jtnp
29 palms
twentynine palms
hi-desert
hwy 62
highway 62
route 62
Pool
weddings
joshua tree national park
desert writers celebration
hotel
inn
lodging
fine dining
catering
special events
live music
city of twentynine palms
adobe
oasis of mara
oasis
historic
night life
gardens
pond
jane smith
29 palms creative center
29 palms highway
twentynine palms highway
desert oasis
mojave desert preserve
mojave desert
spa
picnic
sunday brunch
lunch