Obama Administration Releases Their Roadmap for Widespread Solar Energy Development Across the Desert and Elsewhere

07/25/2012 07:58AM ● Published by Steve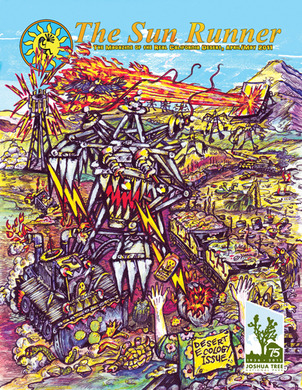 Cover art by Billy Makuta
Gallery: Solar PEIS [1 Image] Click any image to expand.
By Steve Brown
Turning a deaf ear toward concerns about destruction of the desert's ecology, Native American cultural resources and sacred sites, lack of tribal consultation and public input, and following proper procedures for all of the above, the Obama administration has announced it will push its devastating industrial solar power program to greater lengths.
As part of President Obama's "all-of-the-above" energy strategy, the Department of the Interior and Department of Energy, will publish the Final Programmatic Environmental Impact Statement, or PEIS, for industrial solar energy develoment in six southwestern states - Arizona, California, Colorado, Nevada, New Mexico, and Utah.  This final PEIS represents a major step toward permitting industrial solar energy development across public lands in the West.
Oblivious to a host of obvious problems and a growing number of lawsuits surrounding the Obama administration's industrial solar and wind development projects, this solar PEIS establishes solar energy zones with access to existing or planned transmission (Green Path North opponents take note), incentives for development (ie: more public tax dollars to subsidize ill-planned projects steamrolled over any concerns, as in previous fast-tracked projects), and, according to the Department of the Interior, "will make for faster, better permitting of large-scale solar projects on public lands."
"This blueprint for landscape-level planning is about facilitating faster, smarter utility-scale solar development on America's public lands," said Secretary of the Interior Ken Salazar. "This is a key milestone in building a sustainable foundation for utility-scale solar energy development and conservation on public lands over the next two decades."
"Developing America's solar energy resources is an important part of President Obama's commitment to expanding American-made energy, increasing energy security, and creating jobs," said Energy Secretary Steven Chu. "This new roadmap builds on that commitment by identifying public lands that are best suited for solar energy projects, improving the permitting process, and creating incentives to deliver more renewable energy to American homes and businesses."
Clearly an energy project steeped more in politics than long-term preservation of environmental resources, Native American cultural and spiritual resources, negative impacts to the tourism industry across the Southwest, or smart solar power development, the Obama administration is pushing its agenda with a heavy hand, an approach Secretary Salazar once likened to being on steroids.
The Solar PEIS planning effort has focused on identifying locations on Bureau of Land Management (BLM) lands that are deemed by the government to be most suitable for industrial solar energy development. These areas are characterized, according to the DOI, by excellent solar resources, good energy transmission potential, and relatively low conflict with biological, cultural and historic resources.
The Final PEIS identifies 17 Solar Energy Zones (SEZs), totaling about 285,000 acres of public lands, as priority areas for utility-scale solar development, with the potential for additional zones through ongoing and future regional planning processes. The blueprint also allows for utility-scale solar development on approximately 19 million acres in "variance" areas lying outside of identified SEZs. In total, the Final PEIS estimates a total development of 23,700 megawatts from the 17 zones and the variance areas, enough renewable energy to power seven million American homes, according to DOI projections.
"Input from stakeholders has been extremely valuable throughout this process," said Acting BLM Director Mike Pool, in clear contradiction to statements made at hearings where members of the public and environmental organizations noted their concerns about this immense zoning project (that was impossible to evaluate adequately in the time given and with the resources available), and the overwhelming amount of paperwork to read within the time given (one commenter noted that if you read 100 pages of the EIS per day, you'd still not be anywhere near finished by the end of the public comment period).  "Their comments have helped to refine the zones to make sure they're 'smart from the start', to improve the transmission analyses and to build effective incentives into this blueprint for solar development."
More lies from the BLM, but then they are as common as a sunny day out here in the desert.
Key elements of the Final Solar PEIS include:
•Establishes an initial set of 17 Solar Energy Zones on 285,000 acres across 6 Western States;
•Outlines a process for industry, the public and other interested stakeholders to propose new or expanded zones; efforts already underway include California's Desert Renewable Energy Conservation Plan and the West Chocolate Mountains Renewable Energy Evaluation, Arizona's Restoration Energy Design Project, and other local planning efforts in Nevada and Colorado;
•Includes strong incentives for development within zones, including faster and easier permitting, improved mitigation strategies, and economic incentives;
•Sets a clear process that allows for development of well-sited projects on approximately19 million acres outside the zones;
•Protects natural and cultural resources by excluding 78 million acres from solar energy development;
•Identifies design features (best practices) for solar energy development to ensure the most environmentally responsible development and delivery of solar energy; and
•Establishes a framework for regional mitigation plans and a strategy for monitoring and adaptive management; the first mitigation pilot for the Dry Lake Solar Energy Zone is already underway.
The July 27 Federal Register Notice of Availability for the Final PEIS will begin a 30-day protest period, after which Secretary Salazar may consider adopting the document through a Record of Decision. The BLM released the Draft Solar PEIS in December 2010, and in response to the over 80,000 comments received from cooperating agencies and key stakeholders, issued a Supplement to the Draft Solar PEIS in October 2011.
Click here for the Final Solar PEIS: http://solareis.anl.gov/documents/index.cfm
While the Ivanpah projects destroy the habitat of a large "unexpected" population of supposedly protected desert tortoises, and kit foxes die off from distemper stemming from contaminated coyote urine sprayed to keep the foxes off the site near Blythe, and whle Native American cultural resources and sacred sites are buldozed, the Obama administration ignores it all and marches forward in its destruction of the American Southwest.
Read our story on The Death of Tourism in our area and across the American West:
http://thesunrunner.com/2012/05/09/the-death-of-tourism-in-our-area-and-across-the-american-west
News
sun runner
steve brown
ecology
environment
ivanpah
solar
power
green energy
environmental
renewable energy
tourism
blm
doi
interior
obama
salazar
blythe
cec
Native American
sacred sites
cultural resources
destruction
energy
desert tortoise
kit fox
department
doe
solar power
PEIS
environmental impact statement
southwest
west
ken salazar
mike pool
steven chu
solar energy zones
desert habitat