Twentynine Palms Marine Base Land Acquisition Final EIS Available

07/27/2012 08:33AM ● Published by Steve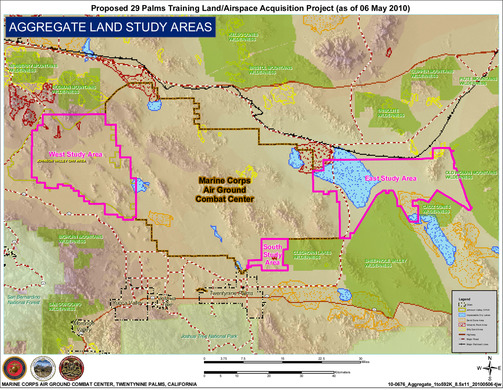 MCAGCC Expansion Map
MARINE CORPS AIR GROUND COMBAT CENTER, TWENTYNINE PALMS, Calif. (July 27, 2012) - In accordance with the National Environmental Policy Act (NEPA) of 1969, the Department of the Navy, on behalf of the Marine Corps and in cooperation with the Bureau of Land Management and Federal Aviation Administration, has completed the Final Environmental Impact Statement (EIS) for the 29Palms Training Land Acquisition/Airspace Establishment.
The completion of this Final EIS follows several years of research, analysis and public involvement, including three public scoping meetings and three public meetings in association with the Draft EIS.
The Final EIS evaluates the potential environmental impacts associated with the proposed expansion of the training range, including the establishment of associated airspace, at the Marine Corps Air Ground Combat Center at Twentynine Palms, Calif. Six action alternatives and a no-action alternative were evaluated. The action alternatives would accommodate sustained, combined-arms, live-fire and maneuver training exercises for all elements of a Marine Expeditionary Brigade.
The following resource areas are addressed in the EIS report: land use, recreation, socioeconomics and environmental justice, public health and safety, visual resources, transportation and circulation, airspace management, air quality, noise, biological resources, cultural resources, geological resources and water resources.
In compliance with Council on Environmental Quality regulations, public scoping meetings were held in December 2008 and public meetings in association with the Draft EIS were held in April 2011. Public meetings are not required for the Final EIS. The Final EIS includes written, oral and website comments received during the Draft EIS public comment period and Marine Corps responses to those comments.
Regulations provide for a 30-day waiting period after the Final EIS is published before the agency may take final action. During that period, in addition to the Marine Corps' own internal review, the public and other agencies can comment on the Final EIS before the agency's final action on the proposal.
The Final EIS has been made available to individuals, agencies and organizations that requested a copy. The Final EIS is available for public viewing at www.marines.mil/unit/29palms/las and at the following information repositories:
Barstow Branch Library, 304 E. Buena Vista St., Barstow, CA 92311
Joshua Tree Library, 6465 Park Blvd., Joshua Tree, CA 92252
Lucerne Valley Janice Horst Branch Library, 33103 Old Woman Springs Road, Lucerne Valley, CA 92356
Needles Branch Library, 1111 Bailey Ave., Needles, CA 92363
Newton T. Bass Apple Valley Branch Library, 14901 Dale Evans Parkway, Apple Valley, CA 92307
Ovitt Family Community Library, 215 E. C St., Ontario, CA 91764
Sacramento Public Library Central Branch, 828 I St., Sacramento, CA 95814
San Bernardino County Library, 104 W. Fourth St., San Bernardino, CA 92415
Twentynine Palms Library, 6078 Adobe Road, Twentynine Palms, CA 92277
Victorville City Library, 15011 Circle Drive, Victorville, CA 92395
Yucca Valley Branch Library, 57098 29 Palms Highway, Yucca Valley, CA 92284
Written comments must be postmarked or received online by August 27, 2012, to ensure they become part of the official record. Written comments may be submitted via the project website at www.marines.mil/unit/29palms/las or mailed to:
Naval Facilities Engineering Command, SouthwestATTN: 29Palms EIS Project Manager1220 Pacific HighwaySan Diego, CA 92132-5190
More information related to the Final EIS is available on the project website at www.marines.mil/unit/29palms/las.
News
marines
29 palms
mcagcc
twentynine palms
blm
eis
johnson valley
marine base
wonder valley
base
expansion
marine corps
faa
environmental impact
air space
training
land acquisition
air ground combat center
marine expeditionary brigade