Book Review: Desertwalk: 
A Search for Secrets of the Desert 
Written & Illustrated 
by Audrey Schumacher Moe

08/01/2012 04:27PM ● Published by Steve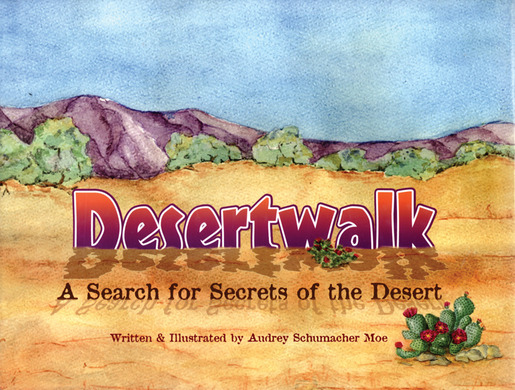 Book Review By Delphine Lucas
Desertwalk is a story of Audrey Schumacher Moe's personal encounter with wildlife and Native American artifacts in the Colorado Desert. By its appearance I thought the book was a coffee table type book, one to pick up to glance at pictures and read a few descriptions now and again, and I did just that, while it sat on my coffee table for a year or so. This book deserves more than just an occasional glance, as I found out one day when I took more time to read the text and study the drawings. It is a hand-illustrated journal of Audrey's life and exploration of her new home in the Cochella Valley, attractively presented.
Audrey and her husband own a large property in the Cochella Valley, where she has time to be alone and reflect on her encounters with wild animals, birds, in- sects, snakes, flowers, pottery sherds, and the other things on their desert property she comes in contact with, as she directs her hired hands to assist her in turning their property into a personal paradise.
Every couple of pages, Moe focuses on one animal, bird, plant, etc, and de- scribes her personal experience with her subject. She includes her own watercolor paintings and drawings to accompany her writing. Often she turns her subject into a focus of further study and includes some interesting, and sometimes fascinating information about what she learns from her research. She adds facts not commonly known to most people, so the descriptions are informative, and meaningful for people who love the desert.
This book will now be a reference for me on the desert animals and plants that are included. I plan to refer back to it when the subject, of let's say, ravens, comes up in conversation, and I will also use it as reference for the review of poetry about ravens in this writer's issue.
The watercolor paintings in the book are artistic and quite detailed, on closer examination, adding a meditative quality to the book. I thought the watercolors were lovely and the text interesting enough to give the book as a gift to a fam- ily member who likes nature and enjoys visiting us in the desert.
Occasionally, the writing is truly beautiful and lyrical. I was taken with Audrey's description of the painted lady migration and wished more of her writing was in that vein, because this is the kind of writing that captures the essence of desert experience, its poetry. She entered into the mystery of the desert with the butterfly migration.
At the end of some sections she shares her personal reflections and les- sons of what she is learning about herself as a result of living in the desert, her relationship to things and the material world. Unfortunately, I found these insights somewhat banal and distracting within the book. It was as if she stepped out of her spirit of connection to the desert and went outside, and it was not a place, as the reader, I wanted to go with her.
I am certain Moe, as an artist and writer, will observe the natural world around her no matter where she goes. I hope she will enter more deeply and continue to share her love of creation with us. 
Culture
,
In Print
sun runner
desert writers
Native American
delphine lucas
writers edition
book review
artifacts
colorado desert
illustrations
nonfiction
audrey schumacher moe
cochella valley