Book Review: Desert Reckoning By Deanne Stillman

08/01/2012 04:33PM ● Published by Steve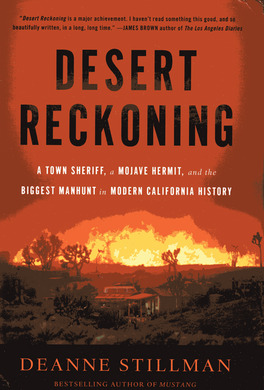 By Delphine Lucas, Literary Editor
Rating: 5 Palms
As a relative newcomer to the desert in 2001, I read Deanne Stillman's first book, Twentynine Palms: A True Story of Murder, Marines, and the Mojave. I had just quit a teaching job after a one year contract in the junior high school in Twentynine Palms. I read the book hoping for some illumination of what I had got myself into by moving to the desert. It gave credence to some- thing I had discovered: the desert had an edge to it.
I also liked the fact that the book was controversial in Twentynine Palms and hoped we would hear more from Stillman. I liked her writing a lot.
Eleven years later, after she wrote two more books about the desert, she now gives us a compassionate rendering of a true crime story that took place in another part of the Mojave Desert: the Antelope Valley. Amazon Books listed it as one of the best books of July, 2012, along with eight others, and I couldn't agree more. I read it in two days.
It took eight years for Stillman to write Desert Reckoning. The book began as an article for Rolling Stone magazine in 2005. The research took time. In order to get the information she needed to write the story, she had to keep opening her heart to the desert, to let it take her in and breathe its spirit into her. This is the way of the desert. People in the desert, as well as other things in the desert, reveal their secrets in their own time, in their own way.
Stillman delves into the lives of Steve Sorensen, the town sheriff, Donald Charles Kueck, a solitary desert dweller, and Don's son, Charles Donald, referred to by friends and family as Jelly. Throughout the book she follows their connections to the desert; how they ended up here, what they did here, and how they changed by living here. From Stillman's desire to truly know these people and what happened to them, she comes back again to the Mojave.
The story begins with Donald Kueck, a man who lived alone far out in North Los Angles County. He was a bright guy who liked to read. He found the places around his travel trailer that had water, so he could be self-sufficient and also irrigate his marijuana plants and his beloved pear tree. He became friends with ground squirrels (possibly the last surviving family in the area), ravens, and rattlesnakes. For fun he built and tested out rockets.
In 2003 Sorensen, the sole deputy of the area arrived on his doorstep and Kueck blasted him to pieces. To this day, no one knows exactly why.
Sorenson, like Kueck, was a desert transplant, and he didn't live far from Kueck. He lived in a house with his wife and children, and like Kueck, looked out on the view of the Three Sisters Mountains from his property. The sheriff was a revered member of the community. Thousands went to his funeral after he was killed, and many people told stories of his acts of kindness. He helped old people by doing their yard work, he told kids to hang out with a better crowd, and he bought groceries for shut-ins, just to name a few things he did for the com- munity.
Jelly, Don's son, is also a big part of the story. He came to the desert as a teenager to reunite with Don after years of estrangement and eventually to live with him. Suffering from serious drug addiction and many other problems, Jelly had probably arrived too late to be able to undo the years of damage. Even though it was good to be with his son, Don, used to being alone with his animal friends, and who never had the disposition to be a parent, was getting burned out on having his son around. Jelly headed up to Seattle and got involved with the heroin and punk scene, becoming a hard core junkie. That was his undoing.
During the two years following Jelly's death from a heroin overdose, Don's mind quickly unraveled. It's hard to figure out how to live when you lose a child. He dug his own grave on his property. After he shot Sorenson, he went into hiding for a week in self-dug tunnels and managed to elude the biggest high tech man hunt in California history for an entire week before he was taken out. He knew how to survive in the desert.
The story is compelling. Stillman juxtaposes the characters of the two men in such a way that the reader sees the essence of who they both were. They belonged to the desert.
I saw myself through these people. After twelve years of living here and opening my heart to the desert, I also belong to the desert. The desert dweller can find a part of themselves in this great book. Desert Reckoning is a must read. 
Culture
,
Travel
,
In Print
sun runner
desert writers
fiction
twentynine palms
lancaster
palmdale
delphine lucas
deanne stillman
desert reckoning
desert writers issue
book review
desert living
mustang
desert author
donald kueck
steve sorenson
jelly kueck
murder