Jack Lyons' Film Talk for August/September, 2012

09/03/2012 09:52AM ● Published by Steve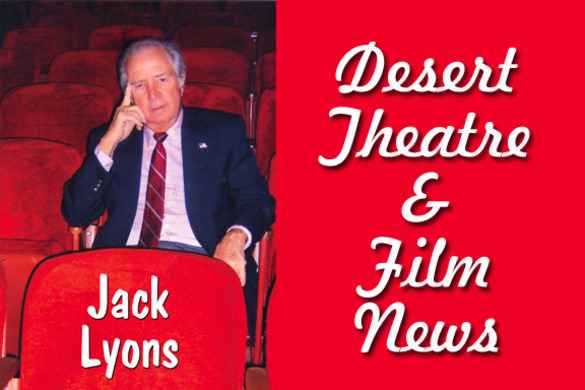 Jack Lyons
FILM TALK
By Jack Lyons
Sun Runner Film Editor
FADE IN:
The HOT issue here in the valley, other than the weather, is the upcoming Big Bear Lake International Film Festival (BBLIFF) taking place just up the road in the cool climes of the Big Bear Lake resort area.
Mark your calendars! The festival begins on Thursday, September 13 and runs through Sunday, September 16, 2012.
The festival, which keeps getting bigger, better, and more prestigious in movie circles is a personal favorite of mine for a couple of reasons. One, it's one of a few festivals that recognizes and honors the creative effort and input of the Cinematographer. Without this expert, creative artist, no film would ever appear on a movie screen. BBLIFF has been featuring the work and expertise of the world's finest cinematographers for years.
The culmination of this on-going recognition is the annual presentation of their Lifetime Achievement Award for Cinematography. This year, the 2012 honoree is the late, great, cameraman and Director of Photography, Jack Cardiff.
English writer, producer, director Craig McCall, whose documentary film "Cameraman: The Work and Life of Jack Cardiff" became the basis for the posthumous award, will accept the honor on behalf of Cardiff's family. This prestigious award is being presented by Monika Skerbelis, Festival Co-President of the Board and Film Programming Director.
 In addition, Hollywood Director of Photography John Bailey, last year's Lifetime Achievement Award honoree, will be present to add his personal anecdotes and commentary about his friend, Jack Cardiff and Jack's many accomplishments in a movie industry career that spanned a 90 years!
The second reason this festival is high on my list of film festivals to attend is their continuing honoring of the Lifetime Achievement Award for Screenwriting.   Sandy Steers Festival Co-President and Screenwriting Competition Director, has announced Academy Award winning screenwriter Tom Schulman as the recipient of 2012 Festival Honoree for Screenwriting.
Screenwriting is another discipline that fuels the creative arts machine.  As they say "… In the beginning was the Word."  Blank pages like blank canvases remain just that - blank, unless the creative urge and talent begin to take over.
Tom Schulman is a most deserving honoree. He became an Academy Award winning screenwriter with his first effort "Dead Poets Society," starring Robin Williams.  He's also penned "What About Bob?," starring Richard Dreyfuss and Bill Murray, "Honey I Shrunk the Kids," with Rick Moranis, as well as, "Medicine Man," "Holy Man," and "Welcome to Mooseport."   
Schulman also has a busy TV writing and producing career with such projects as HBO's "The Anatomy of Hope" pilot.
The Big Bear Lake International Film Festival is a must see event for fans of wonderfully written and gorgeously filmed movies and screenplays. For information on festival tickets call 909-866-3433 or visit www.bigbearfilmfest.com or email: info@bigbearfilmfest.com.  
See you at The Festival September 14 through September 16.
FADE OUT:
Festival Schedule: http://www.bigbearlakefilmfestival.com/festival/festival-schedule
Tickets & Special Events: http://www.bigbearlakefilmfestival.com/festival/tickets-events
The Festival on Facebook: https://www.facebook.com/pages/Big-Bear-Lake-International-Film-Festival/132466006672
Culture
,
Travel
sun runner
film festival
jack lyons
film talk
big bear
film fest
big bear lake
international film festival
cinematographer
jack cardiff
craig mccall
monika skerbelis
john bailey
sandy steers
tom schulman
missed connections
dead poets society
what about bob
honey i shrunk the kids
medicine man
holy man
welcome to mooseport
kenny stevenson
dorien davies