Focus attention on your business with our two Desert Travel Issues!

09/05/2012 09:25AM ● Published by Steve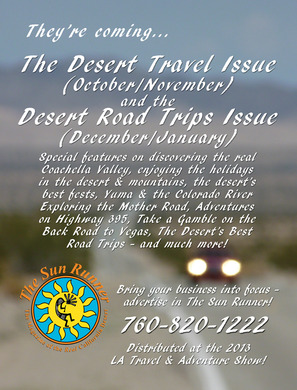 Here at The Sun Runner Magazine, our annual Desert Travel Issue has always been our most popular issue of the year.  This year, with desert travel being a hot topic, we're producing two desert travel issues - the annual Desert Travel Issue (October/November 2012), and the Desert Road Trips Issue (December 2012/January 2013).
Both issues will be distributed at the LA Travel & Adventure Show in January at the Long Beach Convention Center - the biggest travel show in America (the 2012 show - our 5th consecutive year there promoting the desert, was the largest travel show in U.S. history).  Both will be distributed to the tour operators we met with during this year's International Tour Operators Pow Wow (about 50 tour  operators from 22 countries representing more than 1 million annual visitors).
We're covering everything from special holiday offerings in the desert and mountains, to discovering the real Coachella Valley, we're hitting the Mother Road and celebrating Yuma with Arizona's Centennial this year (it's New Mexico's as well).  We'll be taking readers to all our favorite desert parks - Joshua Tree, Anza-Borrego, Death Valley, Mojave, and more, and we'll be sharing favorite desert drives.
Our two desert travel issues are a fantastic way to reach readers who actively are seeking new desert experiences, mountain getaways, and places to explore, shop, dine, and stay.  We personally work the California Deserts Visitors Association booth at the LA Travel & Adventure Show and no, we don't get breaks.  There is a steady flow of visitors, tour operators, travel media, and travel agents coming through the booth wanting to know about where to go and what to see across the desert region (and we don't always keep within borders for all you mountain and Colorado River folks).
Thousands will keep these issues as vacation planners and guides.  Don't be left out.  We love the desert, our mountains, and the river.  We want to include folks from the Mexican border to Lone Pine, from Yuma to Kernville, Tehachapi to Needles, Victorville to Kingman, Banning to Blythe, and all points in between.
Desert parks and real desert experiences are at the top of the list of our travel show visitors - wildflowers, hikes, wildlife, night skies, adventures, beautiful vistas, new and unique experiences, unusual shopping, dining and lodging locations, art, culture, holiday shopping you can't find elsewhere, winter and spring activities, events, the Old West, Native American experiences, and recreation from snow boarding to playing on the river - that's what our readers want!
To include your business or organization in our desert travel issues advertising, please call John Cucchiara (for Coachella Valley, Borrego Springs, Ridgecrest, Julian, Idyllwild, Yuma, Colorado River region, and Lake Arrowhead) at: (760)808-3297, or Sandra Nightingale (for the hi-desert/Joshua Tree Gateway Communities area, and Big Bear)  at (323)314-5919.
The Sun Runner offers the most affordable, cost effective means for reaching the drive tourism market, as well as desert locals, and the magazine actively promotes the desert region for tourism.
Don't miss out - call today!
Culture
,
Travel
,
In Print
sun runner
joshua tree
death valley
mojave
ridgecrest
palm springs
borrego springs
anza-borrego
anza-borrego
salton sea
randsburg
centennial
palm desert
blythe
colorado river
coachella
nevada
recreation
la quinta
coachella valley
el centro
cathedral city
apple valley
victor valley
cabazon
route 66
victorville
barstow
needles
arizona
mother road
big bear
imperial
yuma
brawley
indio
calexico
boron
tehachapi
banning
idyllwild
lake arrowhead
kernville
sun runner magazine
desert travel issue
desert travel
travel
la travel and adventure show
la travel show
travel show
california travel
advertising
desert advertising
travel advertising
desert road trips
road trips
julian
laughlin
kingman
desert hot springs
indian wells
algodones
christmas shopping
holidays
old west
travel tips
travel guide