Gawker picks Desert Writers Issue cover as 2012's Best Magazine Cover

09/18/2012 04:07PM ● Published by Steve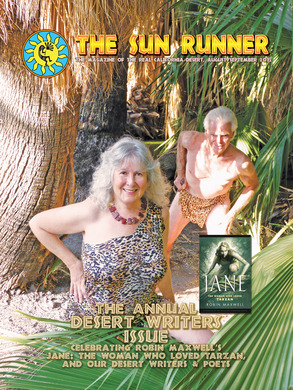 Gallery: 2012 Best Magazine Cover [1 Image] Click any image to expand.
OK, so we have no idea how it happened, but Hamilton Nolan on Gawker.com, has chosen our Desert Writers Issue cover as 2012's Best Magazine Cover.
The cover features author Robin Maxwell and her  husband Max Thomas as Jane and Tarzan, commemorating Robin's new book (out this week from Tor as part of the official Tarzan Centennial celebration) JANE: The Woman Who Loved Tarzan, which is reviewed by Delphine Lucas in this issue.
The cover was shot by Steve Brown at the 29 Palms Inn on the Oasis of Mara in Twentynine Palms.  Tom Ellis and Steve Brown handled the cover's graphic design.
Robin will read from JANE, and host a book signing, along with other desert authors, at The Sun Runner's Desert Writers Celebration, from 5 to 9 p.m., Saturday, September 29, at the 29 Palms Inn.  There will be African dancers, representatives from Edgar Rice Burroughs, Inc. (who will be filming the event), a Tarzan & Jane Yell Contest, food, drink, and poets.
The event is part of the 100 Thousand Poets for Change international literary event.  Please join us.
Read the 2012 Desert Writers Issue digital edition here: http://thesunrunner.com/2012/08/01/the-sun-runners-6th-annual-desert-writers-issue
Culture
,
In Print
,
Today
,
News
sun runner
robin maxwell
steve brown
jane
tarzan
twentynine palms
palms inn
palms
edgar rice burroughs
erb
thousand poets for change
delphine lucas
max thomas
gawker
tor
desert writers issue
tom ellis
tarzan centennial
best magazine cover
gawkercom