Joshua Tree National Park Roadwork to Move 800 Cholla & Plants

10/05/2012 01:27PM ● Published by Steve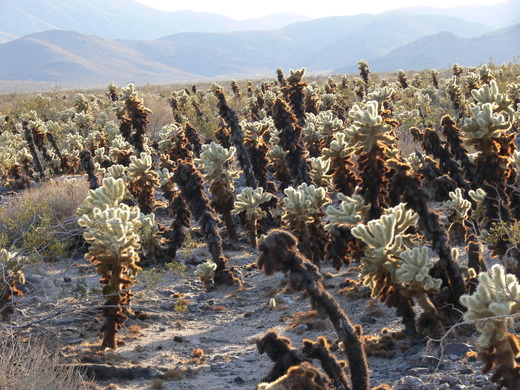 Joshua Tree National Park's Cholla Garden
Joshua Tree National Park will begin removing and relocating up to 800 plants on October 15, for a road straightening project along Pinto Basin Road.  The plant removal is expected to continue through the end of December and road construction will take place in 2013.
The park notes the plants will be stored until they can be transplanted back into the Cholla Cactus Garden after the road project is complete.  The park states they expect a 75-85 percent survival rate for the plants involved.  This means up to 200 of the relocated plants, presumably cholla and other species, will die from the project.
Pinto Basin Road is expected to remain open during the plant salvage and removal work, with only minor delays.  Visitors are asked to use caution when traveling the curvy section of road.
While The Sun Runner has not received confirmation from park personnel, a number of single vehicle and motorcycle accidents along that stretch of road may be the impetus behind the park's road straightening project.  We've literally had some park personnel scream at us for stepping on cryptobiotic soil, so there must be a significant reason for the park to approve of the uprooting of approximately 800 plants within the park, and the loss of up to 200.
We will add details to this story as they become available.
Travel
,
News
sun runner
joshua tree
national park
jtnp
native plants
pinto basin
cholla garden
cholla cactus garden
cholla cactus
transplant
road construction
cottonwood
south entrance
road straightening
cholla
cactus