The Clean House Brings Fanciful Melodrama to Life in the Groves Cabin Theatre

10/12/2012 05:59AM ● Published by Steve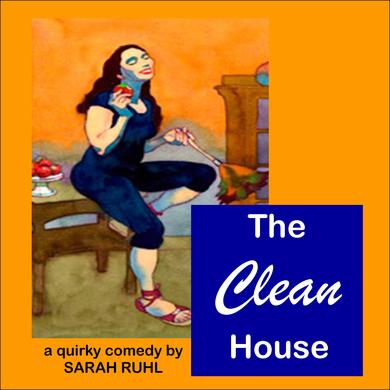 Gallery: The Clean House [3 Images] Click any image to expand.
By Jack Lyons
Sun Runner Theatre Editor
Sarah Ruhl is one of the young (38 years-old) and emerging playwrights who has a winning track record. Her plays have been popping up all over theatrical stages from coast to coast for the last 12 years. She is a prolific playwright and writer, and that's good news for smaller regional theatres and especially for community theatres. She is also a playwright whose work tends toward a sense of fantasy, whimsy, even mystical, and definitely "off-beat" and quirky, both in content and style.
"The Clean House" won the 2004 Susan Smith Blackburn Prize, awarded yearly to the best English-language play by a woman, and was a Pulitzer Prize finalist in 2005. It has received glowing reviews from many critics: Variety called it a "…wondrously mad and moving work…" and Charles Isherwood of The NY Times dubbed it a deeply romantic comedy, "…visionary, tinged with fantasy, extravagant in feeling, maybe a little nuts."
The Groves Cabin Theatre of Morongo Valley, had scheduled Ruhl's "The Clean House," to be directed by Wendy Cohen for production in 2011.  As is often the case when community theatres obtain the rights to produce a play, the production is subject to the rights being withdrawn if a professional company wants to produce it. That was the case in director Cohen's situation.  So, she patiently waited for the rights to produce the play when it became available in 2012.
The Groves Cabin Theatre is one of the most honored community theatrical groups in the desert winning more than 50 Desert Theatre League (DTL) honors and awards over the years.
The somewhat fanciful and bittersweet story of "The Clean House" takes place in a 'metaphysical' Connecticut setting sometime in the future, where married doctors Charles and Lane (Dennis Priest and Vicki Montgomery) employ Matilde (Julie Scott), a Brazilian housekeeper who is more interested in coming up with the perfect joke than in cleaning the house. Trouble erupts when Charles falls in love with Ana (Anja Homberg), one of his cancer patients.
 Love in all its forms is a powerful motivator. How they resolve these potent emotional issues is one of things that make Ruhl's play so interesting and compelling.
Joy Groves, as Virginia, is always a delight to watch on stage. Montgomery, as Lane, the betrayed wife, turns in a nice performance balancing her anger at her husband and her compassion for Homburg, her husband's cancer-stricken paramour.
Julie Scott, as Matilde the maid, turns in very nice performance, even going so far as to learn to speak Portuguese for her performances.
Cohen's cast delivers a true ensemble effort; even coaxing Lorrie Brandon, her stage manager, to play an enthusiastic waitress who comes out from behind the footlights to toss confetti, snowflakes, and generally break the fourth wall between the actors and the audience from time to time, and has a great time in the process.
Director Cohen and assistant director Marge Doyle have produced an evening of theatre that everyone can reflect about and discuss over a cup of coffee later on.
"The Clean House" plays Saturday evenings at 7 p.m. and Sunday afternoons at 2:30 p.m. through Sunday, October 21. Groves Cabin Theatre is located at 8768 Desert Willow Trail in Morongo Valley north of Highway 62 (look for the large red, white, and blue stone on the north side of the highway). Tickets for all seats are $12. For additional information and reservations call: 760-365-4523; www.grovescabintheatre.org.
Culture
sun runner
joshua tree
hidesert
jack lyons
play
groves cabin
dtl
theatre
review
clean house
sarah ruhl
wendy cohen
dennis priest
vicki montgomery
julie scott
anja homberg
joy groves
lorrie brandon
marge doyle
morongo valley
theater
desert theatre league