Dick Dale's Son and Ex-Wife Arrested for Highly Explosive Desert Bonfire

10/16/2012 12:25PM ● Published by Steve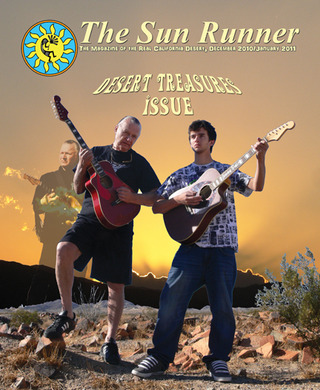 The Associated Press is reporting that Jimmy Dale, 20 year-old son of surf guitar king Dick Dale, along with his ex-wife Jill Dale, Jimmy's mother, have been jailed for allegedly putting a full five gallon propane canister on a fire and shooting at it out in Wonder Valley.  News outlets across the country are carrying the story.
The incident early Monday apparently received some attention when a sizeable fireball erupted near Dick and Lana Dale's ranch, just east of Twentynine Palms.  The explosion did not result in any reported injuries or property damage (other than that to the propane canister, of course).
Bail has reportedly been set at half a million dollars each, which seems somewhat high, and possibly more than many murderers receive out here in the desert.  Considering that shooting old appliances and furniture is a somewhat accepted form of recreation in Wonder Valley (if the sites we've visited are any indication), we're just grateful Jill and Jimmy didn't pick a night with 45 mph winds to have their fun as that could have resulted in another 100 square-mile wildfire.
We are concerned for the safety of mother and son as the jail in Joshua Tree has a somewhat lengthy history of people apparently hanging themselves for minor offenses.  Jimmy had just come off a lengthy national tour with his father, playing drums in Dick's band.  He is scheduled to go back on tour with his father later this year - if this arrest does not interfere.
We have watched him develop his musical skills over more than a decade now, and Jimmy Dale is an exceptionally talented young man, a more than capable musician on bass, guitar, drums, and keyboards.  He joined his legendary surf guitar king father on the cover of our first Desert Treasures Issue, in December, 2010.  It is always a delight to see father and son perform together, and we have hopes that Jimmy will one day come into his own as a musician.
But for now, Jimmy and his mother sit in jail, all for a night of Wonder Valley fun that got a little out of hand.
Culture
,
News
sun runner
joshua tree
dick dale
surf guitar
jimmy dale
twentynine palms
hi-desert
morongo basin
lana dale
wonder valley
jill dale
jail
propane tank
mansour
sheriff