The Sun Runner Expands Travel Features with Desert Road Trips Issue

10/22/2012 04:55PM ● Published by Steve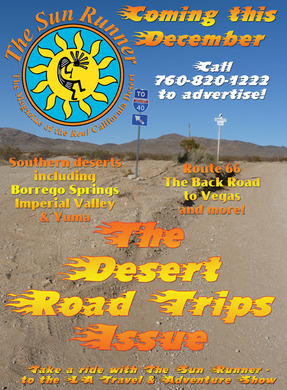 Desert Road Trips Issue
The Sun Runner Magazine is expanding its popular travel coverage with the Desert Road Trips Issue for December, 2012/January, 2013.  The issue will be distributed through the magazine's 500 desert and southern California locations, as well as at the LA Travel & Adventure Show (the country's largest travel show), and to contacts at the International Tour Operators Pow Wow.
The Desert Road Trips Issue will include features on:
The Southern deserts, from Borrego Springs through the Imperial Valley to Yuma, Arizona;
Route 66, from Victorville to Barstow, Ludlow, Amboy, Goffs, Needles, Oatman and Kingman, Arizona;
The Back Road to Vegas, from Morongo Valley to Yucca Valley, Pioneertown, Joshua Tree, Twentynine Palms, Amboy, Nipton, and Primm, Nevada.
Watch for additional editorial features, including the ongoing Real Coachella Valley features.
For advertising information, please call (760)820-1222, or e-mail advertising@thesunrunner.com.
In Print
,
News
sun runner
joshua tree
mojave
desert
pioneertown
borrego springs
anza-borrego
anza-borrego
salton sea
los angeles
felicity
29 palms
twentynine palms
highway 62
route 62
colorado river
nevada
imperial valley
morongo
route 66
victorville
barstow
needles
ludlow
goffs
arizona
mother road
las vegas
yuma
desert travel
road trips
kingman
yucca valley
oatman
kelso
nipton
primm
back road
back roads
interstate 15
alternative
vegas
interstate 10
i15
i10
i-15
i-10
interstate 8
i8
i-8
cima
baker