Native Wind: Steve Rushingwind

11/01/2012 04:26PM ● Published by Steve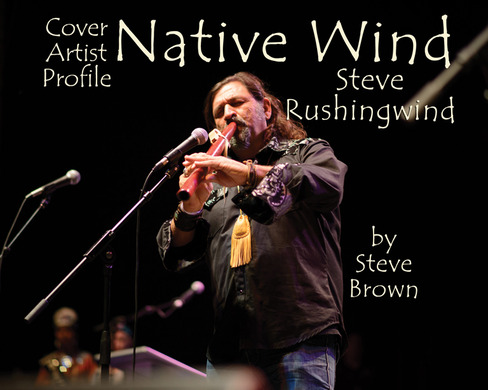 Steve Rushingwind
Look up "Native American flute" music on the Internet and you'll see hundreds of listings for "soothing" instrumental pieces that, for the life of me, all sound pretty much the same.
It's the kind of music you often hear played in spas as they try to evoke a calm new age spiritual ambiance while attempting to relax you.  It's a formula, if you will, that's been applied to other forms of music as well, including the new age Celtic music, that instead of relaxing me, just pisses me off since I know the authentic traditional music of its roots.
I tend to enjoy the same reaction to much Native American flute music as it gets repeatedly cheesed out with all the cliché new age tricks: the sounds of a storm, falling rain, the cry of a hawk, all ladled over flute noodling that never resolves into an actual song.
I know—it's supposed to conjure up all the hackneyed stock images of Native Americans that turn the original Americans into easily trivialized two-dimensional caricatures—the long-haired, bronzed modern George Winston cum Kokopelli musically greeting the rising or setting of the sun from his earth-toned idyllic cliffside adobe, with innate reverence, too spiritual to be heading off to work, subsisting on, presumably, whatever the hawks drop off on his doorstep as he communes in a plaintive minor key with the Great Spirit.
I'm not trying to trivialize Native American music by any means,and if you're one of those who enjoy this type of thing, by all means enjoy it, but really, how many times can you hear the stock sound effect hawk's cry and feel a connection to anything but the fact that it's been done to death?  I love hearing a red-tailed hawk in the wild, but I'm going to shoot the next one I hear on an album.
Enter our cover artist: Steve (Ruiz) Rushingwind.
Steve is an artist and musician of Cahuilla/Opata and Mexican descent, and a truly fun and creative guy.  Steve's anything but two dimensional, and he's been an inspired creative spirit since birth.
In essence, his art and music are just two sides of the same coin.  In his art, he crafts scenes from the desert, as well as colorful images of jazz, and simple portraits of everyday objects Steve finds beautiful.  It is an artistic approach that is honest and suits him well and has its roots in his uncle, Alfred Flores' studio, where he spent time as a child.
So, what about the Native American flute?
Steve has been playing wind instruments all his life, and the Native American flute for a decade or so.  He has recorded quite a bit of his music solo and with guitarist Michael Mucklow, who left the Joshua Tree area a while back, for the hills of New Mexico.
Mucklow's a talented, if sometimes morose, musician, somewhat of a loner, and thus well suited to help compose and perform the mainstream Native American new age music that Rushingwind & Mucklow have recorded together.  They have several albums of this "traditional" Native American music that has won a number of awards.
Overall, an honest assessment reveals many of the songs on the Rushingwind & Mucklow albums are so similar they begin to sound as if they are the same song with minor variations.  And while Mucklow is a very good guitarist, I can't help but feel the compositions would have benefited from bringing in a keyboardist and percussionist other than himself.  That's not to put Michael down, he's just far better at guitar than he is at these other instruments, and there are pieces that could have really soared with stronger instrumental performances in these areas.
Ultimately, their 2012 CD, Bridge, seems to be the best of their collaborations to date, more complex and diverse than their other works, and it lets Rushingwind take his flute playing musically beyond the earlier albums, while Mucklow adds more movement and life to the compositions.
Gone is much of the spa-stic new agey feel, and instead, it is replaced with a musical direction that is fresh and lively, incorporating broader  instrumentation and influences.  Sometimes, it almost rocks, but doesn't quite cross that line.  Yet.
Continuing in new directions, Steve has launched The Rushingwind Project, drawing blues, rock, and jazz influences into songs still led by Native American flute.  Between Bridge, with Mucklow, and The Rushingwind Project, I'm hearing Steve take his music into new territories, and I'm cheering every hawk's call and cliché that falls along the way.  
Check our website for music by Rushingwind & Mucklow and The Rushingwind Project, and learn how you can help support production of The Rushingwind Project's first album.
Awards
Plains Rider (from Among the Ancients): 2012 New Mexico Music Award
Cahuilla Sunrise and Spirit of the Wolf (from Among the Ancients): 2012 Indian Summer Music Awards
Help fund the Rushingwind Project's first album here:
http://www.indiegogo.com/Therushingwindproject 
Rushingwind Project's "Flutin' Blues"
Culture
,
In Print
sun runner
steve brown
Native American
indian
cahuilla
steve rushingwind
desert travel issue
desert music
artist
music
steve ruiz
rushingwind
mucklow
native american flute
flute
indian summer music awards
cahuilla sunrise
spirit of the wolf
among the ancients
bridge
native jazz